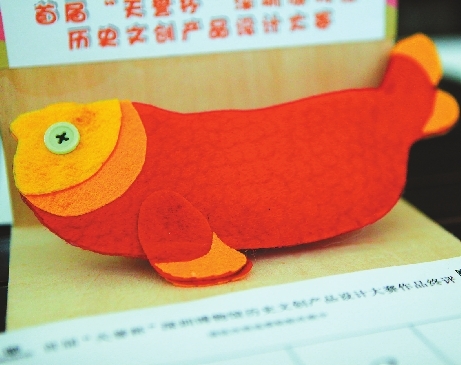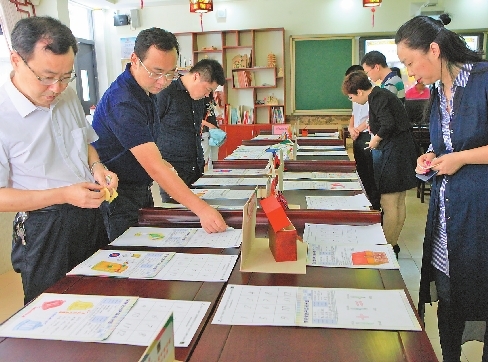 Cao Zhen
caozhen0806@126.com
More than 30 students and 18 teachers from Tianyu Experimental School in Longgang District won prizes at the first Tianyu Cup Shenzhen Museum Historical Cultural Creative Product Design Competition last week.
The competition, organized by the museum and the school, received more than 400 entries from students and 66 from teachers.
They were required to design stationery items based on 11 ancient relics at the museum, such as a Han Dynasty (202 B.C.-220 A.D.) brick, Yuan Dynasty (1279-1386) porcelain vase, a Qing Dynasty (1644-1911) jade tube and an early-20th-century lacquer-coated wood pillow.
A note pad designed by students Zhou Jingyi and Wu Huarong, a pencil case designed by student Ji Zixiang, a tissue box designed by teacher Liu Meina and a note pad designed by teacher Ma Xiaoxia won the grand prize.
Ji's red fish-shaped pencil case was inspired by the fish lantern, a folk item carried by seashore villagers of Shatoujiao in east Shenzhen during their fish lantern dances. The standing-up note pad created by Zhou and Wu was inspired by the Yuan Dynasty porcelain vase with peony motifs.
Some other students designed vivid and novel flash disks, pens and brush-holders, masterfully integrating typical ancient elements with modern items.
"We reviewed the entries from historical, cultural, aesthetic and practical perspectives and hope students will give traditional cultural gems a modern twist while creating useful daily items for our life," said He Xiuqin, headmaster of the school.
"Shenzhen Museum has the responsibility of promoting cultures and this competition helped the students understand local culture, train their manual skills and develop a national pride," said Du Juan, vice director of Shenzhen Museum.
He and Du were of the judge panel which also included local art museum experts, historians and educators.