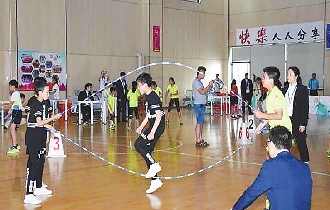 Longtian Primary School in Pingshan District won more than 50 national awards at the 2018 National Rope-Skipping Championships held in Huizhou on May 12.
Among the school's awards are the first place in self-directed group performance, the male individual's competition and the female individual's competition. The school moved forward to take part in the 2018 national rope-skipping finals.
A total of 31 student athletes from Longtian Primary School took part in the competition and stood out based on their athletic ability.
The National Rope-Skipping Championships is a nation-wide competition that attracted 570 contestants from over 40 teams from more than 10 provinces this year.
Cultivating the skill of rope-skipping is a project of special importance in Longtian Primary School's sports education curriculum. All students attending the school practice rope-skipping every day, and the average number of consecutive skips per session usually surpasses 100.
A teacher of Longtian Primary School explained that in recent years, the school has paid more attention to the cultivation and development of athletics in order to provide the students with a more holistic education.
The school aims to promote the popularity of rope-skipping in order to improve the physical health of students. (A Ding)