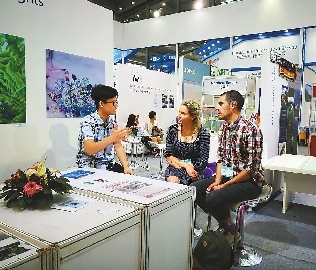 Anyone who has special tastes in arts, designs, crafts, or anything related to visual arts would surely find it fascinating to visit the 14th China (Shenzhen) International Cultural Industries Fair (ICIF), held between May 10 and 14. Conventional arts from China and other parts of the world, incorporating modern creative designs, apparently brought up a unique ground where history, culture, humanity as well as technology interacted and created a fantastic sense. Not only did visitors feel intrigued by all kinds of exotic gems, but they actually experienced the invaluable cultural concepts within — learning about foreign cultures and people.
As I am pursuing my bachelor's degree at Vanderbilt University in the U.S., it was a special opportunity to observe this intercultural event taking place at my hometown while bringing a diversity of perspectives as an international student who studies abroad.
Surprisingly, in my personal case, the implication of this exhibition went much further beyond.
While initially walking around and being captured by several wallpapers and statues at the Northern Europe Hall, I encountered two artists from Sweden who were working around and explaining their creative ideas to viewers. I reached out to them to ask about the original idea of design behind three paintings titled "Northern Lights." While they related features of Scandinavian culture, such as relationship between humans and the environment, I was deeply fascinated by the topic and thus extended our conversation to include Swedish family style, interpersonal network and even their hobbies.
I was equally surprised to find out that we have built a relationship that transcended that of a typical viewer and exhibitors — a deep and more personal friendship was formed after our meeting. And that was totally out of my expectation as a participant of this exhibition.
As my new Swedish friends, Clara and Ariel, requested to explore the city and its local culture more deeply, we agreed to go on a small hiking trip at Lianhua Hill Park, where the influence of China's reform and opening-up policy can be best observed and perceived. Standing at the peak of Lianhua Hill, my friends felt amazed by the design of Futian CBD, a massive group of skyscrapers located along two paralleled lines on the two sides of the swan-like architecture: Civic Center. My friends said that they found the magnificent design of Futian CBD unbelievable considering the fact that Shenzhen was founded only four decades ago. I subsequently pointed at the statue of Deng Xiaoping and mentioned that he was the chief architect of reform and opening up, which has made everything happen here possible.
The day prior to my friends' departure to Stockholm, Sweden, Clara expressed her enthusiasm in visiting my apartment to have a sense of what a Chinese household looks like. Staying inside my tiny bedroom, my friends asked what that Chinese embroidery art hanging on my wall was. "Here is a logo of the 2008 Beijing Olympics," I explained. "It is literally translated as 'Welcome to Beijing (China).' It also represents the forms of gold, wood, water, fire and earth, which are five basic elements that transform to the whole universe, according to Chinese mythology."
Moving to the living room, my friends told me that they were interested in knowing more about Chinese culture. Therefore, I introduced a set of calligraphy kit and gave them as a present. Inside the kit, calligraphy tools such as brushes, ink, rice paper and ink stone were laying within, as if traditional Chinese arts came to life at that particular moment.
Clara and Ariel said they appreciated my gift very much, and that Chinese arts might be able to provide some inspiration for their art design in the future. I expressed my courtesy for their visit, and told them that I was looking forward to seeing the creation of an artwork that integrates both Eastern and Western elements.
Technically speaking, the 14th ICIF was about promoting international cultural exchange, trade and awareness.
However, this exhibition also connected people together. Regardless one's background, culture and level of craftsmanship, everyone was able to communicate with one another on topics including the arts and business opportunities. Essentially, the fair was a place where people from all over the world celebrated their similarities and differences. By the end of the day, I was glad to see this goal was achieved.