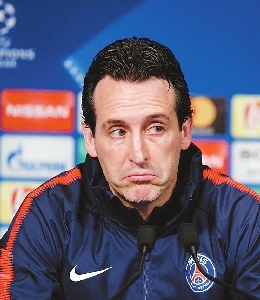 UNAI EMERY, who led Sevilla to three straight Europa League titles from 2014-2016 and Paris Saint-Germain to the Ligue 1 title this past season, posted and then deleted a graphic on his official website proclaiming himself "proud" to be Arsenal's next manager ahead of the club's expected official announcement.
However, even though the 46-year-old Spaniard is widely expected to be officially confirmed as Arsene Wenger's successor this week, the image was soon removed, the Daily Mirror reported.
Emery only left his job at Ligue 1 giant Paris Saint-Germain on Sunday, but on Tuesday "released a picture of himself with the Arsenal badge in front of a picture of the Emirates. A caption below the badge read: "Proud to be part of the Arsenal family."
The Daily Mirror report also noted that the "landing page, which included Emery's signature, briefly went down before reappearing."
Emery's official move to north London is yet to be confirmed, although the Daily Mail has reported the appointment could be ratified "in the next 72 hours."
The London Evening Standard said a four-year contract could be signed and sealed within "the next 48 hours."
BBC Sport reported Monday evening the Gunners had chosen Emery to replace Wenger, who has stepped down after nearly 22 years in charge.
The decision had been made despite former Arsenal skipper and current Manchester City assistant coach Mikel Arteta having been a "strong favorite."
One of Emery's toughest tasks will be convincing a fanbase that had grown increasingly fractured during the final years of Wenger's tenure he can take the club forward.
Jumping the gun on making his arrival known may look like more mismanagement of a lengthy process to replace Wenger, which had an unexpected and, to some, uninspiring end. (SD-Agencies)