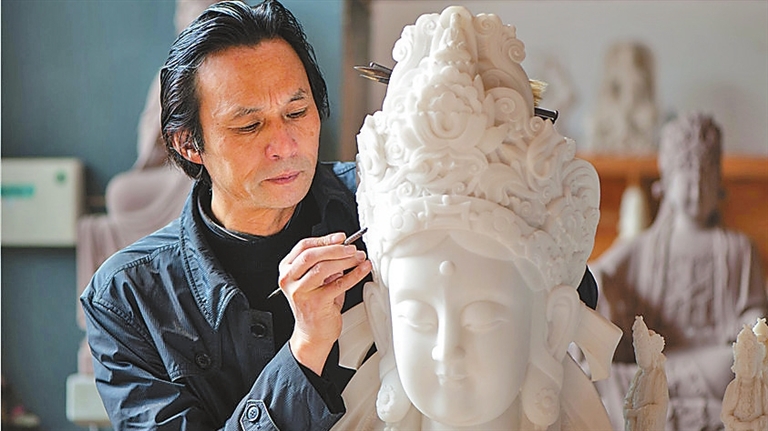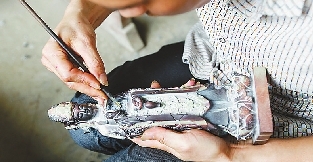 THERE is no smooth road to becoming an artist. When Liu Nengfeng decided to put down the butcher knife and hide away in caves with his engraving tools, people rolled their eyes and wrote him off as a lunatic.
Liu is from Southwest China's Chong-qing Municipality, a city not only best known for its hot pot, but also home to a cliff-side carving tradition that makes use of the nearby mountains.
Tall and lean, the 61-year-old has a slightly hunched back and bobbed hair neatly combed behind his ears. His rough and calloused hands are testament to his four decades of dedication to rock carving.
Liu was born in Dazu District, famous for its thousands of carved Buddha statues dating back some 1,000 years. The relics were listed as a world heritage site in 1999.
Like other locals, Liu grew up with a close familiarity with the statues, but he never had plans to carry on the ancient art form himself.
At the age of 16, Liu became a butcher in order to support his family. He slaughtered pigs at night, got up at 4 a.m., then trekked the mountainous roads for about an hour to reach the county market to sell pork.
"I could earn over 80 yuan (US$12.5) per month, higher than the income of ordinary government workers. And there would also be meat left over to feed the family. Life was quite comfortable," he recalled.
But one day, on his way to the market, something happened to change his known path as a pork seller.
In 1980, the 23-year-old passed a Dazu rock carving and saw a farmer selling some small carvings to foreign tourists. Each piece could be sold for 30 yuan.
That was two years after China started its reform and opening up. Thanks to the policy, the scenic spot was connected to the outside world by paved roads for the first time, which helped it gain exposure through exhibitions, films and news articles. Many tourists, including foreigners, started to flock to the site.
Opportunity was in the air. "Why not learn carving and make a fortune?" Liu started to ask himself.
With the idea growing bigger in his mind by the day, he gave up his butcher knife, determined to become a carver despite protests from his family and ridicule from neighbors.
Every morning, he would get up around 6 a.m., hide in cliff-side caves with a hammer, metal wire and an engraver, and practice like crazy on the rocks.
He remembers vividly the frustration of his first try.
"The carver was much lighter than a butcher knife, but the rock felt so much harder than pork. I just could not get the knife under control," Liu recalled.
He spent three months on his first carving, a Buddha statue. Liu broke it into pieces after finishing it.
"I intended to carve a smiling Buddha, but it turned out to be a crying one," he said.
After Liu quit his butcher job, his family went without income for over six months. Liu's angry wife dragged him out of the cave and threw his work into a pond.
Another half year passed, and Liu became able to create beautiful works, but he had yet to sell any. At the time, he was pondering getting back to butchery when a favorable turn occurred.
One day in 1981, Liu's 2-year-old son was playing with some of his carvings at their door. A foreigner passing by saw them and bought one for 18 yuan.
"At the time, 18 yuan could buy 30 kg of pork," Liu said.
With strengthened confidence, Liu became even more zealous about his art.
The damp caves were swarming with mosquitoes in the summer, but they became Liu's small paradise. He created all kinds of Buddha statues and traveled around the country selling them.
While selling carvings in the street of Guangxi Zhuang Autonomous Region in 1984, his work was appreciated by professors from Sichuan Fine Arts Institute, and he was offered the chance to work at the institute's carving department.
His technique improved under the professional training provided there. He returned to his hometown and opened his own workshop seven years later.
Liu's work has been sold in many countries, and he has been awarded several honors. He was acknowledged as a 16th generation inheritor of Dazu carving by the municipal government in 2009.
Just like many other traditional arts, Dazu-style rock carving has faced challenges in passing on its required skills. "It takes years to become a qualified carver, and it's not a profitable trade," Liu said.
But things are changing for the better. The local government has been taking measures to encourage more people to take up carving.
Two years ago, the Chongqing government gave Liu's workshop 100,000 yuan in subsidies, and it has also helped his apprentices find jobs.
The district's vocational training center introduced a rock carving degree program three years ago, aiming to train 1,000 carvers in five years.
The fame of the Dazu carvings has grown, and the scenic site attracted over 15 million tourist visits last year, up 11 percent from 2016. About 35 percent of the tourists were from overseas.
"Hopefully, these young people will become as crazy about carving as I am," said Liu, watching over the novices working attentively in his workshop. (Xinhua)