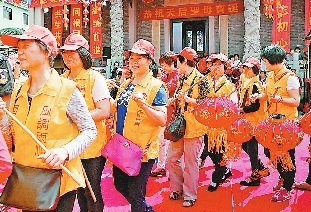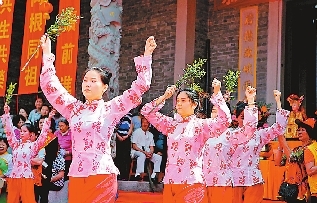 ON May 8, a large-scale activity featuring the intangible cultural heritage of Bao'an District was held in front of the Goddess Temple in Shajing Subdistrict. The activity recreated the bustling scenes of the early years when local residents had lived and worked as oyster farmers.
The day also marked the birthday of Mazu, the Chinese indigenous goddess of the sea who is believed to protect fishermen and sailors.
In the Song Dynasty, Shajing residents began the practice of oyster farming, which has a history of more than 1,000 years. Gradually, local residents formed the customs and beliefs of worshiping the goddess Mazu and the tradition has been passed on for generations.
The activity mainly showcased the traditional oyster culture of Shajing, including the farmers' clothes, tools and production methods. "The spirit of Mazu is to protect the country and the people, uphold justice, and to promote great love and peace. She is deeply loved and respected by the people across the Taiwan Straits," said Chen Peizhong, an inheritor of municipal intangible cultural heritage.
A senior surnamed Chen from the Haoyi community, who is more than 80 years old, told reporters that although Shajing people are no longer oyster farmers, those memories have been deeply engraved in the hearts of the local people. "It is our tradition to celebrate the birthday of the goddess and pray for a good harvest and peace for the whole family," she said.
The singing and dancing programs, which were carefully arranged by the organizers, highlighted the oyster culture of Shajing and pleased the audience's eyes. Light-hearted fisherman's songs reverberated in front of the temple and delivered scenes of the oyster farming lifestyle to the audience.
As a young local resident and also the host of the event, Xian Ziying told reporters that taking part in such a traditional cultural activity has not only inspired her to envision a better life, but also motivated her to learn from the hard-working and brave older generations to fight for a better future.
"The older generations are more familiar with the agenda and writings of the sacrificial offering, but we young people are also very active," said Xian. "Every year on the goddess Mazu's birthday, many villagers come back from Hong Kong and other places to participate. Now there are not many folk activities like these, so we have the responsibility to carry them on."
To the sound of gongs and drums and dragon dance, lion dance and folk dance performances, thousands of people carrying various farm tools took part in the parade through the streets of Shajing and prayed for blessings.
(Zhang Yu)