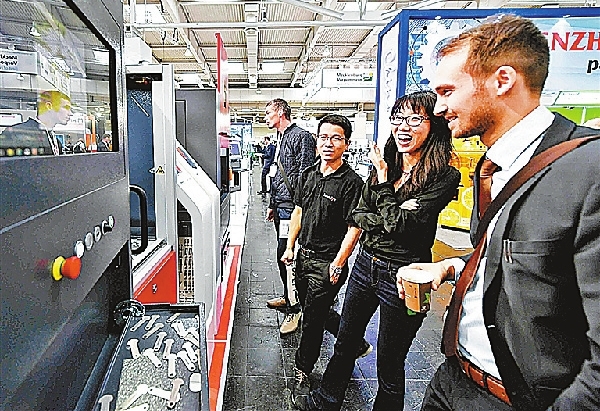 A TOTAL of 32 small and medium-sized enterprises based in Bao'an participated in the 2018 Hannover Messe, the world's leading industrial exhibition, which lasted from April 23 to 27.
The firms said they had reaped the fruit of their labors in the form of successfully closed deals and new intentions for cooperation from possible clients.
This was the third time that the Shenzhen delegation exhibited at the fair since they first joined it in 2016. Nationwide, China ranked second in terms of number of exhibitors, second only to the host nation Germany. A total of 980 Chinese exhibitors participated in the exhibition.
Shenzhen companies were abundantly scattered around the 11 exhibition halls at the fair, each categorized by industry, like integrated automation, digital manufacturing, energy, new energy, robots, logistics and so forth.
Most of the exhibitors from Bao'an were enterprises in the fields of intelligent equipment, new energy, or new materials. Well-known brands in attendance included Han's Laser, Leishen Intelligent System, SG Circuits, AkuSense, VLG Wireless Technology, Kemit, CMK Drive & Automation, and ONN-LED among others.
The projects and technologies showcased by Bao'an firms at the exhibition attracted many interested purchasers from all around the world.
Most Bao'an firms said they had achieved satisfying results at the fair. In particular, AkuSense had around 150 companies that were interested in partnering, and other companies also reported having dozens of potential clients show intentions of further correspondence after the exhibition.
The Hannover Messe offered a great opportunity for many small and medium-sized enterprises to promote their products at the globally-known exhibition. Some enterprises hoped to expand their global markets by joining the fair.
VLG Wireless Technology Co. said its cutting-edge wireless charging device attracted a great number of exhibitors and purchasers.
Bai Guiqing, general manager of VLG Wireless, said a type of wireless power bank produced by his company with a 5000mAh capacity could charge iPhone 8 without a charging cable in three hours. The wireless charger is also operable in conditions as cold as -30 degrees Celsius or lower.
During the five-day exhibition, many clients, both from China and other countries, were amazed by the technology and talked with VLG Wireless with hopes for further cooperation.
Signing cooperative deals was only part of the gains as many Bao'an small and medium-sized enterprises said they also learned a lot during the fair.
Tang Kexin, general manager of AkuSense, said his company had clearly noticed a gap between Chinese enterprises and European brands.
(Cindy Zhang)