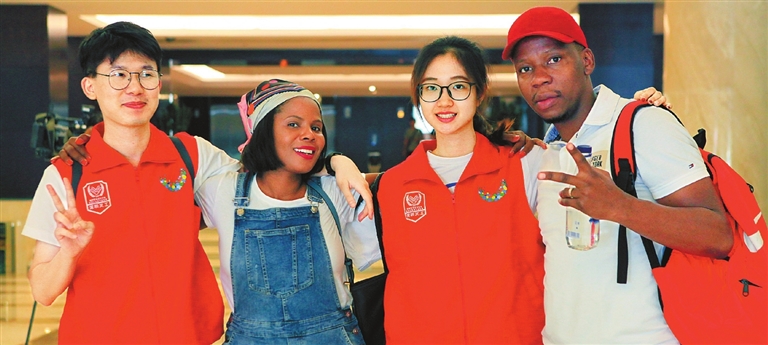 Han Ximin
ximhan@126.com
NEARLY 500 representatives of more than 200 political parties from over 100 countries will participate in the thematic event of the Communist Party of China (CPC) in Dialogue with World Political Parties High-level Meeting, which opens in Shenzhen today.
The three-day thematic event, organized by the International Department of the Central Committee of the CPC, will run until Monday and be developed around four themes, namely "Stories of the CPC — Implementation of Xi Jinping Thought on Socialism with Chinese Characteristics for a New Era in Guangdong," International Seminar on Marxism in the 21st Century and the Future of Socialism in the World, the second China-CELAC (Community of Latin American and Caribbean States) Political Parties Forum, and the fourth China-Africa Young Leaders Forum.
Guangdong is the vanguard of China's reform and opening up. In the new era, Guangdong will continue to be the pioneer in China's further opening to the world and an important window for demonstrating the country's achievements to the world.
During the event, Guangdong will brief attendees its measures for carrying out comprehensive reforms, and display the province's achievements in the past four decades.
African attendees at the China-Africa Young Leaders Forum will exchange ideas and hear the experiences of how youths in China assist the development of the Party and the country. Some said they would like to draw from China's experiences to benefit their own motherlands.
Statistics showed 25 percent of China's exports to African countries are from Guangdong, and tens of thousands of Africans are studying and working in the southern province.
Thabo Nelson Mmutle, from the Youth League of African National Congress in South Africa, hopes he will learn how China has developed its economy into the second-largest in the world.
Mohamed Chiwala, the youth organizer of the ruling Democratic Progressive Party of Malawi, said he wanted to observe the practices of other countries in teaching young people skills.
China is a key strategic partner of Botswana, where Chinese companies have built an airport, schools and high-rises. Ronald Kgathi, general secretary of the National Youth Executive Committee (NYEC) of the Botswana Democratic Party, hopes he will find more opportunities to cooperate with China.
The thematic event is a follow-up to the CPC in Dialogue with World Political Parties High-level Meeting that was held in Beijing from Nov. 30 to Dec. 3 last year. The meeting attracted 600 leaders of nearly 300 foreign political parties from more than 120 countries.