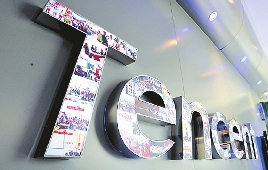 HONG KONG-LISTED Tencent Holdings became Asia's largestes company by market value in November 2017, when its stock price rose nearly 3 percent Nov. 17 to HK$403.4 per share.
In 1999, when the first China Hi-Tech Fair (CHTF) was held, Tencent, just 1 year old at that time, rented a booth to display its messaging tool OICQ, known for its penguin icon and for being a copycat of the early instant messaging client ICQ.
In Tencent's first round of investment in 2002, the company received US$2.2 million from two investors. On June 16, 2004, Tencent Holdings Limited (SEHK 700) went public on the main board of the Hong Kong Stock Exchange.
The "penguin" has grown into an Internet mammoth, with social networking, mobile payment, online music, games and live-streaming services. It has also shifted from imitation to innovation.
Presently, Tencent provides social platforms and digital content services under the "Connection" Strategy. The company has also set up an artificial intelligence laboratory, eyeing success in the AI industry. (SD-Agencies)