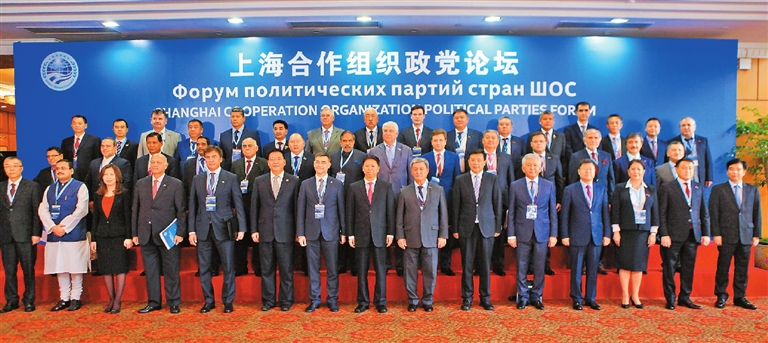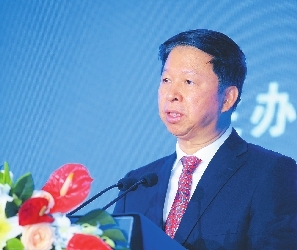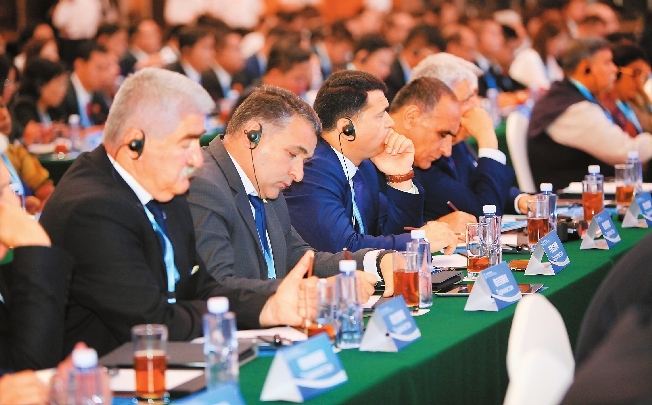 Zhang Qian
zhqcindy@163.com
THE first Shanghai Cooperation Organization Political Parties Forum wrapped up at Wuzhou Guest House yesterday evening with a series of results and consensuses reached.
Themed "Gather the Wisdom of Parties and Promote Shanghai Spirit for the Building of a Community With a Shared Future for Mankind," the forum was hosted by the International Department of the Central Committee of the CPC.
Nearly 200 participants from 30 political parties in 18 countries attended the forum and 36 speakers contributed to the forum by giving speeches throughout the one-day discussion.
All speakers shared that the political parties they represent are agreed to further promote the Shanghai Spirit, which advocates "mutual trust, mutual benefit, equality, consultation, respect for cultural diversity and pursuit of common development" and is regarded as the core value and soul of Shanghai Cooperation Organization (SCO).
Song Tao, minister of the International Department of the Central Committee of the CPC, delivered a keynote speech at the beginning of the forum. He addressed that, as an important integrated regional organization, the SCO has been playing an increasingly important role in building a better world over the past 17 years.
The political parties are forerunners of their respective countries, therefore bear a significant role in helping build a community with a shared future for humanity. According to the minister, enhancing communication among political parties will greatly help SCO play a larger role in the world.
Song said that the CPC is willing to take the forum as an opportunity to promote the building of "the SCO community of common destiny" together with all political parties in SCO member states. He wished that all parties can share their wisdom of governance, deepen collaboration, enhance practical cooperation and connect people in different countries closer.
Representing Guangdong Province, Fu Hua, member of the Standing Committee of the Guangdong Provincial Committee of the CPC and head of the Publicity Department of the Guangdong Provincial Committee of the CPC, introduced Guangdong's development since the reform and opening up over the past four decades. He said that it is of great significance for the forum to be held in Shenzhen, Guangdong.
Fu pledged that the province will actively take part in fulfilling the Belt & Road Initiative and seek further cooperation with SCO member states in trade and people-to-people relationship to achieve mutual benefits and development.
After the 36 representatives shared their opinions and suggestions at the forum, Guo Yezhou, vice minister of the International Department of the Central Committee of the CPC, who also chaired the forum, concluded that the forum had been extremely fruitful.