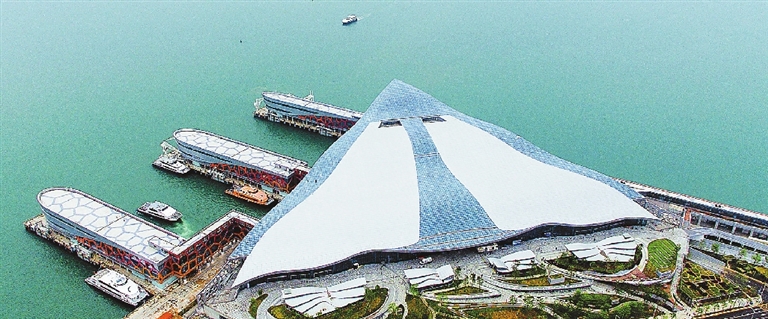 AS a pioneering city of reform and opening up in China, Shenzhen is remarkable at implementing open economy policies.
Thanks to its export-oriented economy, Shenzhen's exports and imports rank second in China. It is a pilot city for national service trade innovation and development, and home to the Qianhai Shenzhen-Hong Kong Modern Service Industry Cooperation Zone. Its rapid development in both traditional and innovative trade practices has made Shenzhen home to a host of leading companies in foreign trade, such as Huawei, Foxconn and One Touch, as well as comprehensive service companies and cross-border e-commerce companies.
Overseas investment and projects by Shenzhen-based private companies rank first the nation. With breakthroughs in commercial systems reform, Shenzhen offers a convenient environment for companies doing business.
In recent years, Shenzhen has achieved complete opening up by building a comprehensive service system for companies, optimizing management to lure more investment, offering a favorable environment, pushing forward industrial transformation, and speeding up foreign trade and opening up.
To ensure stable growth in foreign trade, the city government has carried out 170 measures in the past six years, appropriating an annual special fund of 1 billion yuan (US$158.73 million) for foreign trade. The fund is critical for helping the government cope with a tough and complicated foreign trade situation and push innovative policies forward in its efforts to adjust to foreign trade structures for the long term. In 2017, Shenzhen's imports and exports hit 2.8 trillion yuan, up 6.5 percent year on year. Exports accounted for 1.65 trillion yuan, up 5.5 percent year on year and ranking first in the nation for 25 consecutive years.
To further advance the transformation and upgrading of foreign trade, Shenzhen has expanded policies to include new foreign trade practices. For many years, Shenzhen has offered innovative policies in support of more foreign trade, such as encouraging banks to help the companies with growth potential to obtain export rebates and solve finance problems.
The government also carries out policies and measures to support foreign trade service companies. These efforts have helped increase foreign trade-oriented companies' confidence and market vitality. In 2017, the imports of foreign trade service companies hit 327.52 billion yuan, up 20.8 percent year on year.
Shenzhen also fully supports the construction of the cross-border e-commerce trial zone, building an all-in-one clearance service platform. The city supports the connection between cross-border production and distribution and the building of logistic, supply chain and financial service platforms.
In 2017, cross-border e-commerce trade in Shenzhen hit US$49.17 billion, 3.6 times that of 2013's. For many years, Shenzhen has continued reforming the information technology service for processing trade, offering online services for companies and reducing their registration time. The review process of companies' operation and production capacity has been optimized, and supervision has been enhanced. In 2017, the exports and imports of processing trade in Shenzhen was 921.79 billion yuan, up 5.7 percent year on year.
Shenzhen encourages domestic companies to participate in exhibitions outside China, and every year, more than 1,000 companies receive that support. The government helps both traditional manufacturing companies and high-end new-tech companies carry out international cooperations, thereby staying abreast on cutting-edge technologies, improving innovation abilities and making influential brands on a worldwide scale.
The city has also set up a 10-billion-yuan fund for trade with Belt and Road countries and regions. The trade volume between Shenzhen and those countries and regions continues to grow in recent years. In 2017, the exports hit 338.69 billion yuan, up 17.4 percent year on year, accounting for 20.5 percent in the city's total exports. Shenzhen is also enhancing cooperations with ASEAN, Africa, South America and South Pacific.
By the end of 2017, Shenzhen companies have invested in 137 countries and regions, launching a total of 6,004 branches or organizations across the world. Overseas investment totaled US$85.74 billion, among which US$410 million was invested in Belt and Road countries and regions. Shenzhen Energy Group's Ramu 2 hydroelectric power station project in Papua New Guinea was launched last year, and ZTE successfully acquired Neta in Turkey in 2016.
To lure more foreign investments, Shenzhen has released a batch of measures to create a fair environment. Statistics from Department of Commerce of Guangdong Province show that from 2013 to 2017, Shenzhen gave nods to 18,800 foreign direct investment projects.(Cao Zhen)