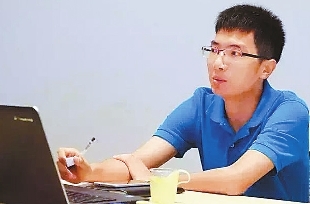 FOR She Zhending, a 35-year-old entrepreneur in Shenzhen, the beauty of starting a business is more than "skindeep."
When his Tsinghua University classmates received their doctorates in biomaterial sciences, they chose steady jobs in academia or State-owned enterprises. But She saw huge business opportunities in the Chinese medical consumable market, which is heavily reliant on foreign products, and decided to start a business.
But a business cannot emerge from simply doing research and development in the laboratory. In 2009, he brought his business plan to Shenzhen, by himself, to seek support.
It was the Research Institute of Tsinghua University in Shenzhen, an innovative institution that operates like a business, that turned his dream written on a piece of paper into reality. There, She and his team received an initial investment of 1 million yuan (US$157,000), with which they launched Shenzhen Lando Biomaterials Co., a company focusing on high-end biomaterials.
Within the research institute's innovation system, She and his team soon successfully developed China's first artificial skin product, used mainly as grafts for burns victims, which can replace similar products from abroad, including the United States.
The price of the artificial skin is around 120 yuan per square centimeter, much lower than foreign products that are priced at around 700 yuan per square centimeter. The artificial skin product is expected to generate a sales volume of 40 million yuan this year and revenue of 300 million yuan in the next three years, according to She.
The Tsinghua research institute allows different teams to conduct research and development as well as business together. It provides high-tech startups with support and facilities, including capital, labs and technical support.
The institute has incubated more than 1,500 companies, including 20 that have since gone public. Among the graduates, there is no lack of leaders in the field, such as Shenzhen Kuang-Chi Group, which works in metamaterials and intelligent photon technologies.
To date, She's company has attracted 125 million yuan in venture capital, with its valuation exceeding 1.2 billion yuan.
The research institute, co-founded by the Shenzhen city government and Tsinghua University, is part of a broader government strategy to encourage technological innovation through exploring a market-driven model of scientific research.
(China Daily)