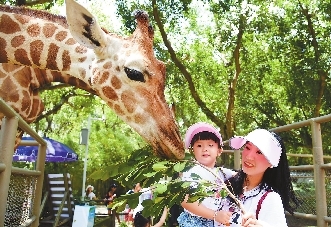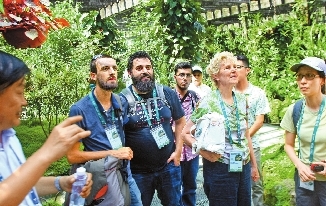 SHENZHEN has planned to establish 11 ecological paths as part of its efforts to become a national forest city.
Local student representatives recently read an initiative to the public at Shenzhen Safari Park to declare Shenzhen's goal to become a national forest city, calling for residents' action in making the city a more animal-friendly place with a better ecological environment.
The campaign was jointly initiated by several government departments related to forest and wildlife protection and animal rescue, along with the zoo. Nearly 500 residents took part in the event.
Shenzhen is striving to apply for the title of National Forest City and is launching major projects that aim to improve forest coverage and the environment, treat polluted rivers, protect biodiversity, build more parks and promote knowledge about preserving nature.
Shenzhen plans to renovate or add 11 ecological paths along the mountainous areas that wildlife inhabit between 2016 and 2025. Five ecological paths, including in areas along the Fenghuang Mountain-Yangtai Mountain-Changpiling area, Tanglang Mountain-Meilin Mountain-Yinhu Mountain, Qinglinjing-Pingdi green area-Songzikeng green area and Sanzhoutian-Maluan Mountian-Tiantou Mountain, will undergo renovation projects as the first batch of ecological paths.
Experts said that due to years of protection, the ecological environment in Shenzhen remains in good condition, but some bridges, buildings and roads are blocking various ecological areas. The ecological paths will play a vital role in connecting various ecological areas, providing pathways for wildlife to move and inhabit.
The experts also suggested that natural areas like mountains, water reservoirs, rivers and seashores should be included in the paths, ensuring wildlife has access to water and food. Local plants are needed along the paths to create a natural environment for the animals.(Zhang Qian)