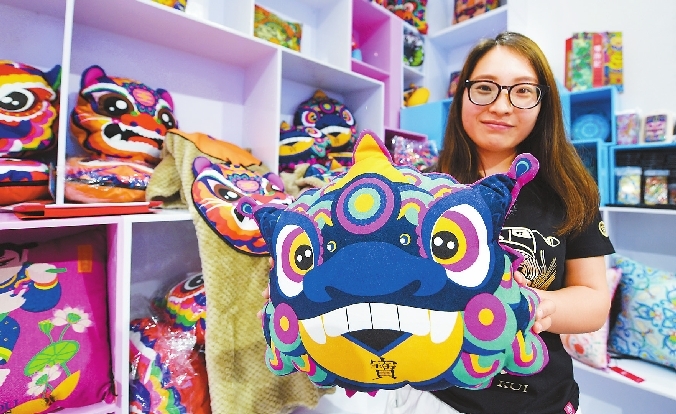 THE 14-year history of the China International Cultural Industries Fair (ICIF) has witnessed the "going-global" of Chinese culture. The Shenzhen-based cultural expo has served as a channel for the world to get to know a culturally rich China replete with a splendid history and innovative vitality.
Concluding May 14, the five-day event, now in its 14th installment, attracted 21,386 overseas buyers from 101 countries and regions, 1,370 more than the previous year.
Nine halls at the Shenzhen Convention and Exhibition Center provided an exhibition space of 105,000 square meters, showcasing trendy designs, animations, publishing, digital culture, arts and crafts and intangible culture heritage items, attracting a total of 7.33 million visitors. A total of 2,308 government agencies, enterprises and institutions set up booths at the venue.
About 130 overseas companies and agencies participated as exhibitors, hailing from the U.K., France, Spain, Austria, Russia, Sweden, Finland, Norway and Denmark. The exhibition areas for overseas exhibitors accounted for 20 percent of the total exhibition area. The Hall of International Exhibitors in Hall 7 covered 7,500 square meters.
Forty countries and regions under the Belt and Road Initiative displayed their traditional arts and crafts, creative designs, intangible cultural heritages and cultural tourism resources. Visitors were also treated to live performing arts.
Besides the main venue, other cultural exhibitions, business promotions and matching-making activities were held at 67 subvenues across the city.
A national-level trade fair first launched in 2004, the first installment of ICIF attracted about 700 exhibitors, including 102 overseas companies. Its rapid popularity epitomizes the quick growth of the cultural industry in Shenzhen and China.
In 2017, Shenzhen's cultural and creative industries turned out added value of 215 billion yuan (US$33.7 billion), comprising about 10 percent of the city's total GDP.
With 48 cultural and creative industrial parks and 20 cultural and creative industrial bases, Shenzhen has formed a clustered cultural and creative industry. There are 13 State-level model bases for the cultural industry, covering areas including creative design, cultural software, animation and games, new media, cultural information services, intangible cultural heritage, high-end arts and crafts, digital publishing, cultural tourism and high-end printing.
A pioneer in China, the Shenzhen Culture Assets and Equity Exchange was established in 2009. By 2017, more than 1,500 projects had been listed at the exchange. The Chinese Cultural Industry Investment Fund, with Shenzhen as its second-largest shareholder, has invested more than 3.8 billion yuan in 42 projects. Shenzhen has become one of the most important centers for cultural investment and financing services in China.
(SD News)