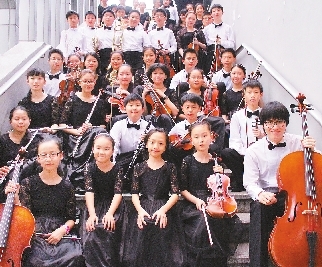 NEXT month on his 28th birthday, pianist Zhang Haochen will return to Shenzhen Concert Hall to play for a loyal Shenzhen audience Rachmaninoff's "Piano Concerto No. 2." The youngest-ever gold medalist of the Van Cliburn Competition (2009) to win the honor at age 18, Zhang is a concert hall regular known for his outstanding technique and phenomenal memory.
Another Shenzhen-trained world famous pianist after Li Yundi and Chen Sa, Zhang is not just the pride of Shenzheners, but also a good example of the city's favorable environment for young talents.
Shenzhen's piano education tops the nation. Renowned piano performers and educators, such as Zhou Guangren, Dan Zhaoyi and Liu Shikun, have set up piano training and education bases in Shenzhen. According to statistics, there are around 400,000 pianos in the city. Shenzhen has more than 6,000 piano teachers and 300,000 young piano learners.
Not only can music students learn from their teachers, they also have the privilege to attend live performances by masters at 20 theaters and halls across the city.
Shenzhen Concert Hall, now in its 11th year, has hosted the world's best orchestras and soloists, including the Vienna Philharmonic, the Israel Philharmonic Orchestra, the Philadelphia Orchestra, pianist Lang Lang and violinist Joshua Bell.
Since its opening in 2007, the concert hall has also been offering a Beautiful Sunday concert each Sunday afternoon free to the public, combining lectures with live performances. More than half a million audiences have listened to free concerts of symphonies, chamber music, choir and Chinese music thanks to the project.
Supported by government funds, the Shenzhen Belt & Road International Music Festival is held annually and offers high-quality concerts at affordable prices for citizens. In its second year now, renowned musicians and orchestras from home and abroad performed 17 concerts between March and April. World-famous artists, including Mikhail Pletnev, Lin Cho-liang, Ye Xiaogang and Nikolai Demidenko among others, performed during this year's fest.
Shenzhen is also home to Shenzhen Symphony Orchestra, one of China's best orchestras today. Led by 38-year-old artistic director Lin Daye, the orchestra aims to become one of Asia's best. To achieve that goal, the orchestra has signed more guest performers and further enriched their repertoire since last year. The orchestra performs more than 30 concerts each year in its summer and winter music seasons.
The city has also organized the Shenzhen International Piano Concerto Competition every three years since 2006.
Not just a paradise for music fans, art lovers may find Shenzhen a fantastic place.
There are 46 museums (including memorial halls) around the city, housing more than 60,000 cultural relics. The New Shenzhen Museum, the country's first museum featuring the history of its reform and opening up, also displays examples of ancient local relics and folk customs.
As the world's largest producer of replica oil paintings, Dafen delivers a unique artistry experience, with over 800 studios and workshops offering reproductions of masterpieces from Da Vinci's "Mona Lisa" to Warhol's "Campbell's Soup Cans" and Klimt's "Embrace." Covering 4 square kilometers, this oil painting village in Buji, Longgang District was set up as an artists' colony in 1989, drawing in painters with its low rental prices. Nowadays, it also serves as a springboard for artists showcasing their original works.
(Li Dan)