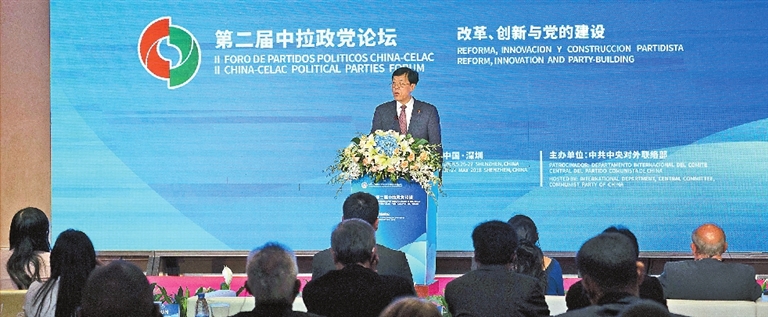 Doria Nan
there_sun@163.com
THE second China-CELAC (Community of Latin American and Caribbean States) Political Parties Forum closed yesterday afternoon in Shenzhen with fruitful results and consensuses.
During the two-day forum, party representatives discussed "emancipating the mind and following development paths suited to specific national conditions," "people-centered approaches for sustainable development," "exercising strict self-governance and building up capacity of governance: the imperatives of political parties" and "China-CELAC cooperation in building the belt and road: the role of political parties."
Hugo Martinez, representative of the Farabundo Marti National Liberation Front and pro tempore president of the Community of Latin American and Caribbean States (CELAC), announced the outcome document.
Li Jun, vice minister of the International Department of the CPC Central Committee, made a speech at the closing ceremony that explained the outcome document.
"Representatives believe reform and innovation are the primary motivating force for development. Reformation should keep advancing in defiance of difficulties, and scientific and technological innovation should take its place as a pacesetter. You must find a development path that suits your own country. We should gain experiences and lessons from other civilizations. We should adhere to the people-centered concept of governance. All parties should exercise self-discipline to strengthen the ability of governance, and fight against corruption," Li said.
"Due to the development of globalization, the global pattern is reshaping. Developing countries should seize this opportunity to promote South-South cooperation and let people live more happily," said Manolo Pichardo, president of the Permanent Conference of Political Parties of Latin America and the Caribbean (COPPPAL), at the ceremony.
"Shenzhen is an excellent example of reform and opening up," said Juan Carlos Latorre, president of the Christian Democrat Organization of America. "President Xi (Jinping) has visited Latin America three times, which shows the importance of China-Latin America cooperation. The Christian Democrat Organization of America once again emphasized that we are willing to strengthen multilateral cooperation between China and Latin America and institutionalize it."
Horace Chang, secretary general of Jamaica Labor Party, also gave a speech.
"Thanks to this forum, we have the chance to discuss governance and some international issues. With the stable political situation and perfect geography location linking North America and South America, the Caribbean is the cornerstone of promoting the Belt and Road initiative in Latin America."
In addition, representatives came to consensuses on devaluation and exchange, as well as building a China-Latin America community, promoting common development and sharing concepts, following the objective and principle of the UN Charter, further consolidating the basis of public opinion for bilateral relations and carrying out group exchanges and interactions.