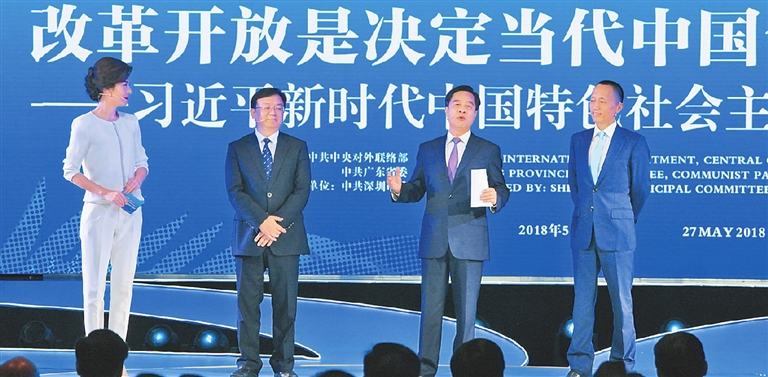 EIGHT Shenzhen entrepreneurs from different generations were invited to share stories about how to strive for a better future through hard work yesterday at the forum titled "Stories of Guangdong: Deepening Reform in a Comprehensive Way."
The entrepreneurs shared their own experiences and agreed that the reform and opening-up policy has provided a nourishing environment for entrepreneurs from different generations.
Li Jianhong, chairman of China Merchants Group
Founded in 1872, China Merchants Group was China's earliest national commercial enterprise. With the enactment of the reform and opening-up policy, China Merchants Group moved from Hong Kong to Shekou in 1979 and set up China's first industrial park — the China Merchants Shekou Industrial Zone — literally becoming the window of China. Under the CPC's guidance, China Merchants Group pioneered and led the development of Shenzhen and even the whole nation.
With an innovative development philosophy, China Merchants Group carried out an array of unprecedented reforms in Shekou, including the introduction of foreign-funded enterprises and the reformation of enterprise management systems, which greatly vitalized the markets in Shekou.
Wang Chuanfu, chairman of BYD Co. Ltd.
Encouraged by the well-known speech delivered by Deng Xiaoping during his tour of southern China in 1992, tens of thousands of youths came to Shenzhen in the 1990s, and I was one of them. I founded BYD in Shenzhen in 1995. Thanks to the policy of reform and opening up, BYD has grown at a fast speed.
In 2013, BYD started to develop electric vehicles and pursued the strategy of developing electric buses for cities, which has made it the No. 1 EV manufacturer for three consecutive years from 2015 to 2017. This could not have been achieved without the CPC's leadership.
Wang Wei, president of S.F. Holding Co. Ltd.
In 1993, with favorable policies brought along by reform and opening up, I established a delivery company in Shunde City in Guangdong Province at the age of 22. The name of the company was Shunfeng. Nine years later we decided to set up the company's headquarters in Shenzhen.
When my friends asked me about the secret to success, I told them that the company's success would not have been possible without the CPC's guidance and the policies provided. Therefore, I would like to reiterate that it is because of the reform and opening-up policy that the company has achieved success.
Liu Zihong, chairman of Royole Corp.
Six years ago, I set up a company called Royole Corp. with two of my fellow alumni of Tsinghua University in Shenzhen, Hong Kong and the Silicon Valley in the United States. Our dream is to spread flexible display technology all around the world and we want to make the company a Chinese brand that enjoys global fame.
Now our products have been sold to more than 20 countries and regions. We believe that, in the new era of China, more and more world-class high-tech companies will come out of Shenzhen.
Luo Zhenhua, president of DJI-Innovations
DJI-Innovations was established in 2006. We have been determined to produce the best aircraft systems for civil use since the very beginning. After 12 years of development, DJI is now a very famous brand in the field.
I think the pathway of DJI-Innovations is like a microcosm of China's industrial history. The average age of our employees is less than 27 years old, but the products we design make up over 70 percent of the world's market for consumer drones.
Besides the effort of our staffers, we believe that the great support from the country and the CPC for innovation is just as much to thank for the success of DJI-Innovations. (Zhang Qian)