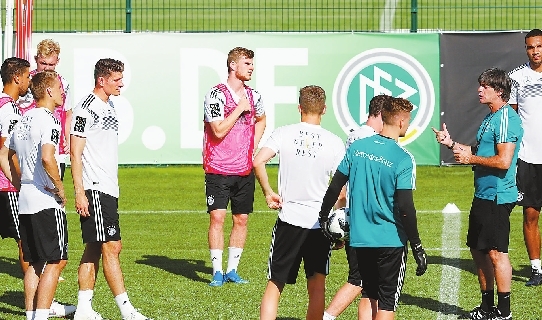 GERMANY coach Joachim Loew was brimming with confidence just over three weeks before what he called the country's "golden generation" begins its World Cup defense against Mexico.
"I have a very good feeling," Loew said Saturday at the team's training camp in Italy. "I don't know what will happen with this golden generation after the tournament. It's possible there will be a break-up. But all the players are on fire for the World Cup."
Germany is one of the favorites in Russia despite the retirements of Philipp Lahm, Bastian Schweinsteiger and Miroslav Klose since winning the tournament in Brazil four years ago.
Players like Toni Kroos, Sami Khedira, Mats Hummels and Thomas Mueller have grown into leading figures with the side, which wrapped up qualification with 10 wins from 10 games and 43 goals, a record number of goals for a European team in qualifying.
Now they are charged with attempting to make Germany the first team to retain the title since Brazil in 1962.
"I don't have to coax new craving or new enthusiasm from the players," Loew said in comments reported by news agency dpa. "The craving and ambition are still there, even among those who became world champions."
Germany's only worries concern the fitness of captain Manuel Neuer, defender Jerome Boateng and midfielder Mesut Ozil. Neuer hasn't played since September with a hairline fracture in his left foot after being injured in training. Boateng is still recovering from a thigh injury sustained in the Champions League semifinals. Ozil missed Arsenal's last few games of the season with back problems.
Team doctor Hans-Wilhelm Mueller-Wohlfahrt gave Ozil the green light to start training with the team and he was to decide if Boateng should stay in Munich for further treatment or join the squad. "We don't want to make any mistakes," Loew said of Boateng. "I think he'll be able to at least take part in some team training next week."
Germany has two warmup matches, against Austria in Klagenfurt on June 2 and Saudi Arabia six days later in Leverkusen.
The 2018 World Cup begins June 14 and ends July 15
(SD-Agencies)