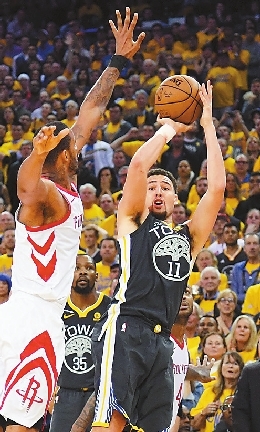 KLAY THOMPSON knocked down nine 3-pointers on the way to 35 points, the Warriors held James Harden down in the second half, and Golden State rallied from an early 17-point deficit to stave off elimination with a 115-86 victory over the Houston Rockets on Saturday night to force a deciding Game 7 in the Western Conference finals.
"I guess you could say I was born for it. Man, that felt good," Thompson said.
Stephen Curry added 29 points and five 3s on a night Harden dazzled for long stretches with 32 points, nine assists and seven rebounds while backcourt mate Chris Paul sat out sidelined by a strained right hamstring.
Kevin Durant struggled with his stroke at 6 for 17 but still scored 23 points as the defending champions kept their repeat quest alive by thoroughly outplaying Houston in the second half.
The Warriors outscored the Rockets 55-20 in the second half before both coaches subbed their key players with 4:28 left.
A dynamic, star-studded series projected to be as captivating and compelling as the actual NBA Finals is going the distance.
Golden State stymied Harden on consecutive possessions early in the fourth with smothering defense led by Nick Young and several helpers, then Thompson hit a 3-pointer from the left wing at 9:40 for an 89-77 lead. And roaring Oracle Arena went crazy with hopes of even more home games to come if Golden State can get to a fourth straight finals.
Thompson came through with his best performance of these playoffs with the season on the line, just as he did in a 2016 Game 6 of the Western Conference finals at Oklahoma City when he went off for 41 points against Durant and the Thunder to force Game 7.
(SD-Agencies)