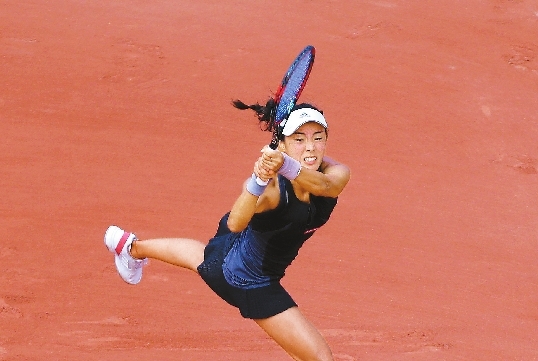 VENUS WILLIAMS has lost the opening match at two consecutive Grand Slam tournaments for the first time in her illustrious career.
Her coach, David Witt, thinks the quick exit at the French Open on Sunday was because Williams did not do a good enough job of switching tactics on the red clay that has never been her best surface.
Williams bowed out in the first round in her 21st appearance at Roland Garros, beaten 6-4, 7-5 by 85th-ranked Wang Qiang of China. That follows an equally abrupt exit for the 37-year-old American at the Australian Open in January.
"The girl's weapon is her forehand, but Venus kept hitting second serves to her forehand. You've got to realize what's going on out there when you're losing. And you've got to change. She didn't change," Witt said after watching Williams' match Sunday from a guest box behind one of the baselines at Court Suzanne Lenglen.
"I'm sitting there, going, 'OK, you can't keep making that mistake,' but she does," Witt said. "It's easier said than done. Somebody watching can see it. Somebody that's playing sometimes can't see it, regardless if they've played 20 years or more."
The ninth-seeded Williams offered mostly terse answers in her news conference.
"I mean," she said, "nobody plans on this."
As for whether there were things she thought she could have tried to do differently Sunday, she replied: "Yeah, I think 'differently' is win the point."
She actually built a 3-0 lead in the second set, then frittered that away. Over and over, she would shank a shot — backhands, more than anything — then look over in Witt's direction with a hand on her hip. Her often-terrific serve was not on target, either, with only 56 percent of first serves landing in and four double-faults.
(SD-Agencies)