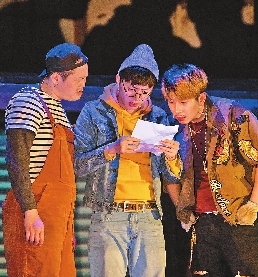 A Chinese stage adaptation of Japanese author Keigo Higashino's bestseller "Miracles of the Namiya General Store" will be shown at Shenzhen Grand Theater from June 29 to July 1.
In 1980, the Namiya General Store becomes popular after its owner, Yūji Namiya, starts accepting peoples' letters seeking advice for anything troubling them, similar to an agony aunt. When the store is closed, people drop their letters through a hole in the roll-up door, which are collected in a mailbox, and receive a handwritten reply from Namiya in a milk box hung outside.
In 2012, three delinquents, Atsuya, Shota and Kohei, take shelter in the abandoned Namiya General Store after committing some wrongdoings. Staying until the morning, the boys' pillaging is mysteriously interrupted by an advice-seeking letter being posted, although nobody is outside. The letter is addressed to the General Store and traditionally was written by someone to consult about worries.
Upon reading it, the boys realize it was written in 1980, 32 years ago. When Kohei decides to reply, the mysteries and secrets of the old general store comes to light, as their letters transcend time and space to touch a variety of characters, revealing the pasts of Namiya, and follows the many miracles that are woven through the lives of the seemingly unrelated cast.
The novel won the seventh Chuokoron Prize and has had sales of more than 1.6 million copies in China. A Chinese movie adaptation was released in December 2017 and stars Jackie Chan as the titular shop owner.
Time: 7:30 p.m., June 29-30;
2:30 p.m., July 1
Tickets: 180-680 yuan
Venue: Shenzhen Grand Theater, 5018 Shennan Road East, Luohu District (罗湖区深南东路5018号深圳大剧院)
Metro: Line 1 or 2 to Grand Theater Station (大剧院站), Exit B(SD News)