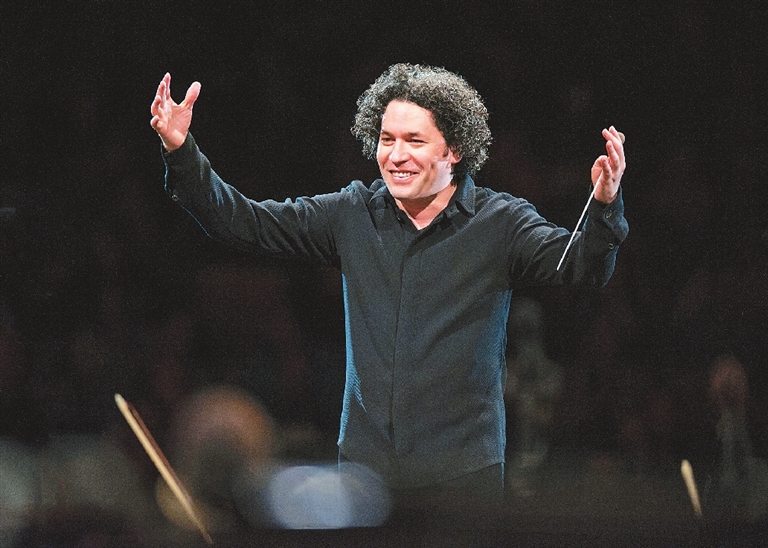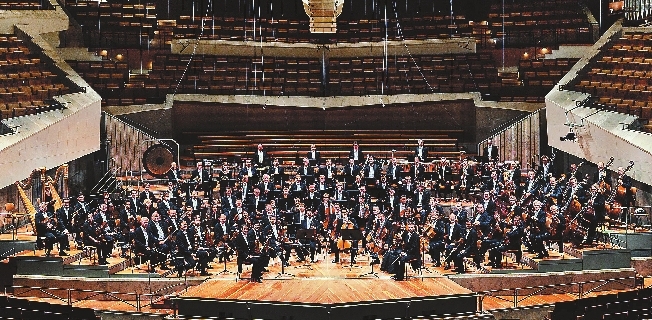 Debra Li
debra_lidan@163.com
CLASSICAL music fans who had to take a rain check after their October date with Gustavo Dudamel at Guangzhou's Xinghai Concert Hall was cancelled can now see their dreams come true.
The charismatic Venezuelan conductor and violinist, who had planned to conduct the Simon Bolivar Symphony Orchestra to give four nights of Beethoven symphonies but didn't appear in Guangzhou due to conflicting schedules, will come to Shenzhen Concert Hall this November. And even better, this time, Dudamel will be conducting the Berlin Philharmonic (BPO).
The program for Nov. 16 includes Leonard Bernstein's "Symphony No. 1," also called "Jeremiah," with mezzo-soprano Tamara Mumford from the Metropolitan Opera, and Dmitri Shostakovich's "Fifth Symphony."
On Nov. 17, the Berlin Philharmonic will perform Bernstein's "Divertimento" as well as Mahler's "Symphony No. 5."
"This year marks the 100th anniversary of Bernstein's birth," explained Guo Xiaolan, general manager of Shenzhen Concert Hall.
"All classical musicians and orchestras are paying homage to the great American composer and conductor. Therefore, it's natural for the program to reflect that aspect."
The fourth movement of Mahler's "Symphony No. 5" is the most frequently performed of his works, having been used by figure skaters at Olympics, for film scores and the ABC television show "Marvel's Agents of S.H.I.E.L.D."
Shostakovich's "Fifth Symphony," appealing to both the public and critics, is among the most popular of the classical repertoire.
First founded in 1882 by 54 musicians, the BPO has been rated by the British magazine Gramophone as one of the top three of European orchestras. Herbert von Karajan led the orchestra from 1955 until his resignation in April 1989, only months before his death. Under him, the orchestra made a vast number of recordings and toured widely, growing and gaining fame. Today, many Chinese classical music fans call BPO the "best symphony orchestra in the universe," evidence of their love for the philharmonic.
Dudamel, born in 1981, is widely known as one of the world's top three younger-generation conductors, along with Daniel Harding and Yannick Nezet Seguin.
The 37-year-old took up the violin at 10, and then composition and conducting at 14. Dudamel has won a number of conducting competitions, including the prestigious Gustav Mahler Conducting Prize in Germany in 2004. He is now the music director of the Simon Bolivar Symphony Orchestra and the Los Angeles Philharmonic. Last year, Dudamel conducted the Vienna Philharmonic in their traditional New Year's Day Concert. At 35, he was the youngest guest conductor for the event.
Having BPO and Dudamel perform at Shenzhen Concert Hall is also a dream come true for the venue's general manager Guo.
"Having both Vienna Philharmonic and BPO performing at our concert hall is a long-cherished dream of mine," she said.
"Shenzhen will become the third mainland city after Beijing and Shanghai to host the two top-level orchestras."
The Vienna Philharmonic gave two performances under the baton of Andris Nelsons in October last year.
The BPO will also perform two nights in Beijing and one night in Xi'an on their Chinese tour this year after their first stop in Shenzhen.
Subsidized by government funds and Shoucai, a Shenzhen-based wine company, the BPO concerts in Shenzhen will be less costly than in other cities. Ticket selling will start in early June.
Tickets: 580-2,980 yuan
Time: 8 p.m., Nov. 16 and 17
Venue: Shenzhen Concert Hall, intersection of Hongli Road and Yitian Road, Futian District (福田区红荔路和益田路交汇处深圳音乐厅)
Web site: www.szyyt.com