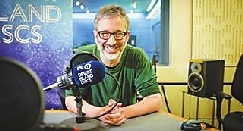 COMIC and writer David Baddiel has said he talks about "sad and difficult" topics, including his father's dementia, as a way of "processing" life.
He told BBC Radio 4's "Desert Island Discs," "As you get older your life gets darker. You're faced with mortality."
Speaking about his "truth urge," he said, "Let's find the funny in those things. I don't think it's a denial, it's a bulwark."
Baddiel went on to speak about his father suffering from Pick's disease.
"It's a form of dementia, and is a ridiculous and cartoonish version of what he was like," he said.
"It involves people being sweary and obscene and impatient and apathetic — and my dad was always like that."
The comic also said he didn't want to seem "arrogant" by saying how truthful he is, adding it was "because of my own limitations as a performer," saying he was the "opposite" to his partner Morwenna Banks "in terms of versatility and range."
Baddiel also revealed his love of musicals, saying he was "obsessed" with Jesus Christ Superstar and Godspell when he was younger.
This was reflected in his musical choice on the show of one of the songs from "The Book of Mormon."
He also spoke about his mother having a "very public affair" with a golfing memorabilia salesman, and "turning our house into a shrine for golf."
"It's quite hard to forget about the affair when there's a statue of Lee Trevino in your eyeline," he added.
"She was a good mother in lots of ways, very devoted to us three brothers."
But he added that he thought he became a comedian — "look at me" — was because he suspected her favorite child was his brother, Dan.
In her defence, he added: "But there's something very beautiful about a person whose life is nearly taken away."
(SD-Agencies)