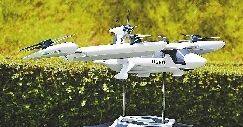 Uber无人驾驶直升机亮相
Uber is stepping up its bid to create one of the first urban flying taxi networks.
The firm unveiled its Uber Air design models for the first time at the Elevate Summit in Los Angeles this week, revealing a look at the vertical take-off and landing (VTOL*) craft that could be ferrying passengers above congested* cities in just two years.
A full-size model and miniature design prototype* show how the electric flying taxis could fit up to four riders per vehicle, at first for piloted flights before ultimately becoming fully autonomous*.
Uber plans to launch the air-taxi service in 2020, with its self-flying craft to follow in the next five to 10 years.
The models offer a glimpse at the helicopter-like craft that will lift off using a series of rotors. But, the electric vehicles will be far quieter than a helicopter.
The plan will rely on a network of Skyports, which will allow the VTOL Uber Air craft to take off and land on rooftops across the country.
A video demonstrating the firm's vision of a flying taxi network reveals what appears much like its current on-the-ground model.
Passengers can hail a ride using the mobile app, though these must be booked 60 minutes ahead of time. Then, they'll head to the terminal to find their craft.
Stan Swaintek, head of operations, aviation at Uber, said the system is designed to be seamless and intuitive for the rider.(SD-Agencies)