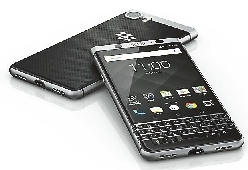 黑莓有望发布KEY2
BlackBerry has started to tease its next handset, dubbed KEY2, which will sport a dual-camera system, LED flash and physical keyboard.
The smartphone is a follow-up to the KEYone, which was launched in February 2017. Like the KEYone, the new phone will be powered by Google's Android operating system.
BlackBerry typically adds its own software improvements to Android to improve security on the device — a key selling point for the privacy-focused company.
BlackBerry has included a mysterious new button on the KEY2's physical keyboard.
The new key, which is labelled with a three-by-three grid of dots, did not make it onto the BlackBerry KEYone.
The BlackBerry KEY2 will be unveiled in New York City on June 7.(SD-Agencies)