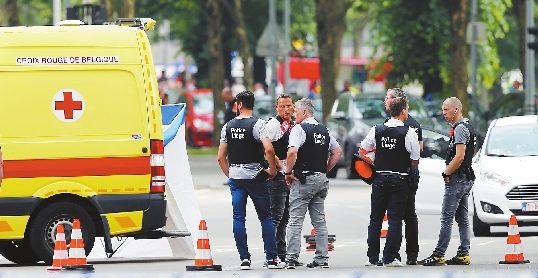 A MAN killed two policewomen and a female passer-by in the Belgian city of Liege yesterday, public broadcaster RTBF said, before being shot dead in an exchange of fire that sent people scattering and scurrying to take cover.
The city authorities confirmed the death toll.
The national crisis center, on high alert since past attacks by Islamic State in Paris and Brussels, said it was looking into whether terrorism might have been a motive for yesterday's attack in Belgium's third city.
RTBF identified the alleged assailant as a 36-year-old Belgian who had been released on parole from a prison near Liege, close to the German and Dutch borders, Monday.
He was serving time for drug offenses and classified as "unstable," according to RTBF. It remained unclear how the incident, during which pupils at a nearby high school were moved to a place of safety, had unfolded.
"The children in the local schools are safe," Liege city authorities said on Twitter, adding that, apart from the two police officers, a passenger in a car had been killed.
RTBF said the man may have attacked the police officers with a box-cutter and then seized one of their weapons.
La Libre Belgique newspaper quoted a police source as saying the gunman shouted "Allahu Akbar" — God is greatest in Arabic — and RTBF said investigators were looking into whether he might have been converted to Islam and radicalized in prison.
"(Terrorism) is one of the questions on the table, but for the moment all scenarios are open," a spokesman for the crisis center said.
Federal prosecutors took over the investigation, a further indication that a terrorist motive was possible.
Two other police officers had been injured, a spokeswoman for the Liege public prosecutors office said.  (SD-Agencies)