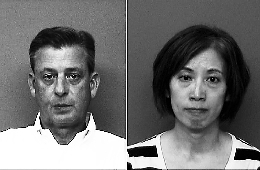 LAWYERS for two Northern California flight school employees denied accusations that their clients kidnapped a student pilot and tried to send him back to China.
Police in Redding, California, the United States, arrested flight instructor Jonathan McConkey and his assistant, Kelsi Hoser, on suspicion of kidnapping and conspiracy.
Lawyers for McConkey and Hoser said in a joint statement Tuesday that their clients deny the accusations and intend to prove their innocence.
The two were released from custody after posting bail. No court date was immediately set.
Their employer, IASCO Flight Training, hasn't returned phone messages seeking comment.
Sgt. Gary Meadows said police were tipped off around 7:15 a.m. Friday by the student's brother, who lives in Shanghai, China.
Fu Baihan called the Redding Police Department after receiving information that his brother, Shi Tianshu, was assaulted earlier in the morning, Meadows said in a news release.
Officers went to Redding Municipal Airport, where IASCO trains its pilots, and arrested McConkey, 48, about an hour after the call came in to police, Meadows said.
They also arrested Hoser.
According to police, McConkey and Hoser, 50, went to the alleged victim's residence Thursday night to tell him they were sending him back to China. The pair returned to the residence Friday morning and when the victim refused to leave, McConkey battered him and threatened physical violence if he did not go with them, police said.
Fearing for his safety, Shi left with McConkey and Hoser, who took him to Redding Municipal Airport, police said. Officers found Shi, McConkey and Hoser at the airport.
Shi had minor injuries and was released after being questioned by police.
Shi, who also goes by the name Chris, said he was feeling "very bad" and that he was shaking, but his four other roommates were watching out for him.
"My inside is bad because I never had this experience before," he said of his mental state. He's only been there for seven months, he said.
During the morning incident, he alleged McConkey came to his residence and was cursing. It frightened him, Shi said.
"He's very rude, used too many dirty words. I can't describe," he said.
(SD-Agencies)