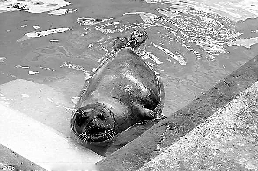 A SEAL at a rescue sanctuary has been put on a diet and exercise regime — after scoffing so much fish she piled on three stone (19 kilograms).
Jinx, who is aged 2, was rescued as a pup in April last year but could not be released back into the wild because of a stomach problem.
When keepers threw fish into the pool in Jinx's enclosure at meal times she would often eat much more than the smaller pups she shared a home with.
And after lunch she would then spend the rest of her time basking on the shore.
As a result, her weight ballooned to over 13 stone — around three stone more than her healthy weight.
Now staff at the Gweek Seal Sanctuary, in Cornwall, the U.K. are helping Jinx fight the flab by reducing her fish intake and have introduced her to toys to encourage her to swim more.
Natalie, head of enrichment at the center, said, "We throw our fish in from the outside of the pool to try and encourage competition from the pups.
"But what we found this winter is that Jinx is very good at competing and she's actually competed a little bit too well.
"We'd like to get her to know her name and swim around a bit and hopefully we can get her active in that way.
"We're also going to be giving her lots of toys and lots of fun things to play with to encourage her to swim around."
Jinx has been kept in the convalescence pool with the sanctuary's other pups who are in rehabilitation.
(SD-Agencies) SD-Agencies