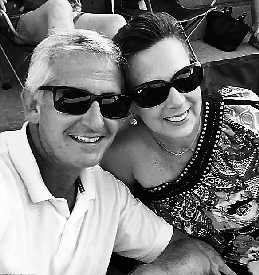 AN Oklahoma woman whose memory was wiped out from an accident that left her in a coma is set to renew her vows with her husband next month.
Angela Sartin-Hartung, 55, was tragically hit by a police car while crossing the road at the intersection of York Avenue and 72nd Street in New York City back in October 2013.
When Sartin-Hartung, who is currently married to Jeff Hartung, woke up from a coma, she had no recollection of her husband or the past decade they had spent together.
The woman believed she was still married to her first husband, who is now deceased, Sartin-Hartung told the New York Daily News in an interview.
Since the tragedy, the couple has been working to rebuild their relationship, and Sartin-Hartung said she has fallen in love with her spouse all over again.
The pair's 2000 wedding had also been sadly erased from Sartin-Hartung's memory, and at the time, she believed their teenage daughter was still a toddler.
The couple is planning to renew their vows in Central Park on June 19.
"Every single day is about making new memories now. I'm very fortunate because I get to do that again. My life wasn't taken," she said. "I'm getting excited. My memory is still completely gone, and it takes me a lot to remember to get excited about things.
"I have pictures all over the house of Jeff and me, and he's just such an awesome man. It makes me cry."
The married couple has also reached a US$2 million settlement with the city, five years after the incident.
According to the Daily News, the city claimed the woman was "crossing against a light when she was hit" by an NYPD cruiser. Her attorney, however, claimed the cruiser's lights were not on.
Sartin-Hartung said she wishes her story may inspire others who have suffered traumatic experiences and for them to know there is hope for the future. (SD-Agencies)