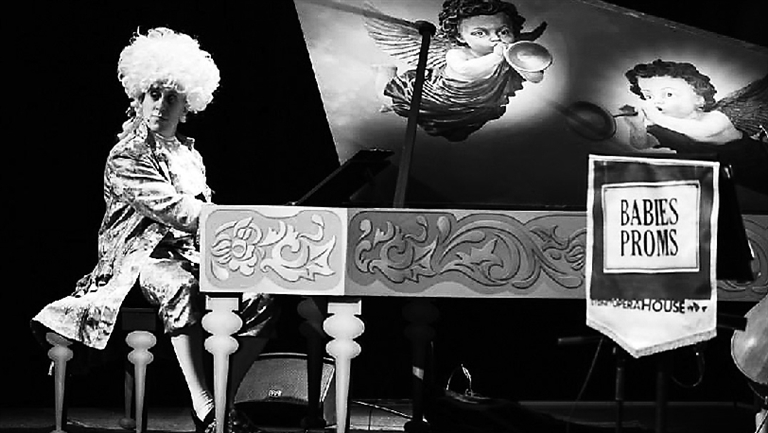 Australian classical pianist Simon Tedeschi will present his "Babies Proms — Meeting Mozart" concerts for local children.
"Meeting Mozart" has been running since 2013 and remains one of the very popular house programs at the Sydney Opera House. This is a fun and entertaining show for the kids and the parents as well. The show mixes the beauty of Mozart with dance, song and music and makes it accessible for kids, introducing them to the beautiful notes and tunes of Mozart, one of the world's greatest musicians. Expect audience participation, jokes and laughter and much more as the performers wow and amaze your whole family all through classical music.
Led by world class pianist Tedeschi as Wolfgang Amadeus Mozart and vocalist Michelle Doake as Mrs. Mozart, the great composer's work from variations on "Twinkle Twinkle Little Star" to "Eine Kleine Nachtmusik" and other major compositions will be charmingly introduced.
Also featuring a range of string instruments, "Meeting Mozart" is a fantastic way to spark creativity in young minds.
After performing his first Mozart piano concerto at the Sydney Opera House at the age of 9, Tedeschi won a string of international prizes and scholarships including an ARIA award for Classical Record of the Year. He participated in the Oscar-winning movie "Shine" in which he played the hands of David Helfgott.
Time: 7:30 p.m., June 5-6
Tickets: 150-280 yuan
Venue: Shenzhen Children's Palace, intersection of Hongli Road and Jintian Road, Futian District (福田区红荔路和金田路交汇处深圳少年宫)
Metro: Line 3 or 4 to Children's Palace Station (少年宫站), Exit B(SD News)