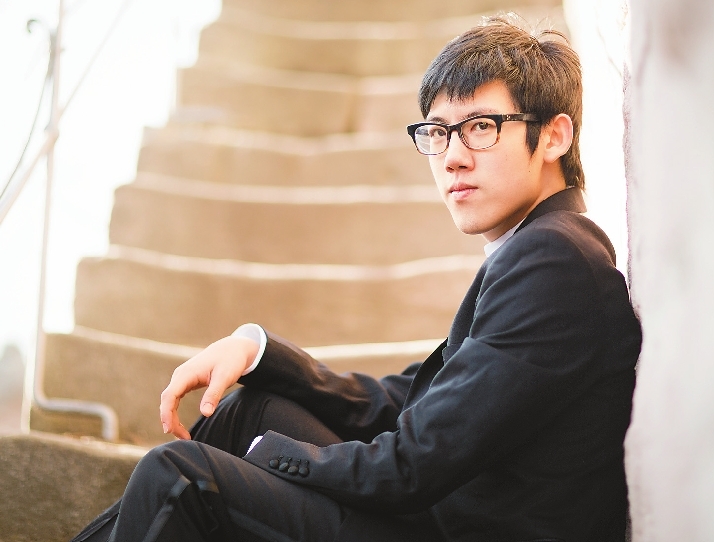 Debra Li
debra_lidan@163.com
LOCAL music fans will be treated to Zhang Haochen's deliberate and dazzling interpretation of Rachmaninoff's "Piano Concerto No. 2 in C Minor" again this Sunday night.
The Shanghai native who played his first piano recital at the age of five has matured into a man of compelling keyboard prowess. In fall 2016, Zhang performed this piece with Shenzhen Symphony Orchestra (SSO) at the opening concert of the orchestra's new season.
Turning 28 on the big day, Zhang will bring the passion of music and the talent of a burgeoning master of the piano to Frankfurt Radio Symphony's (FRS) concert in town.
Conducted by violinist and conductor Andres Orozco-Estrada, music director of the FRS, the program will also include Mahler's "Symphony No. 5," one of the composer's most performed works.
Zhang, who in 2009 became one of the youngest winners of the Van Cliburn International Piano Competition at 18, is garnering attention as a pianist evolving into a musician who is fascinating and versatile while not venturing into exaggeration to demonstrate his skills. Those who have watched him play Rachmaninoff at the SSO concert more than a year ago would still remember his dazzling finger work that captured the zest of the concerto while not distracting from the composer's thoughtful design of the compelling concerto.
This piece is one of Rachmaninoff's most enduringly popular pieces, and established his fame as a concerto composer. Themes from the concerto have appeared in numerous songs and movies, including Frank Sinatra's 1945 "Full Moon and Empty Arms," Eric Carmen's 1975 ballad "All by Myself" and Billy Wilder's 1955 film "The Seven Year Itch," among others.
The FRS, founded in 1929, is one of the first radio symphony orchestras in Germany.
The orchestra has negotiated a delicate balance between preserving tradition and meeting the challenges of a top-ranking modern orchestra. Its artistic profile is defined by a series of concerts with highly diverse programs, from classical to modern music.
With international guest performances and award-winning CD releases, the symphony orchestra of the German Public Radio of Hesse has an outstanding reputation worldwide.
Famed for its outstanding wind section, its rich string sound and its culture of dynamic performances, the orchestra offers a broad spectrum of styles. The concert will also tour to Guangzhou on Tuesday night.
Tickets: 280-1,580 yuan
Time: 8 p.m., Sunday
Venue: Shenzhen Concert Hall, intersection of Hongli Road and Yitian Road, Futian District (福田区红荔路和益田路交汇处深圳音乐厅)
Web site: www.szyyt.com