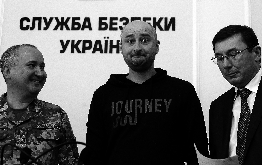 A RUSSIAN journalist who was reported murdered in Kiev dramatically reappeared alive Wednesday in the middle of a briefing about his own killing by the Ukrainian state security service.
Ukrainian authorities had said Tuesday that Arkady Babchenko, 41, had been shot dead at his flat and that his wife had found him in a pool of blood.
His reported murder had triggered a war of words between Ukraine and Russia and sent shivers through the journalistic communities in both countries.
But on Wednesday, an emotional Babchenko appeared before reporters saying he had been part of a special Ukrainian operation to thwart an attempt on murdering him and said he was fine.
"I would like to apologize for what you have all had to go through," Babchenko, who looked on the verge of tears at times, told reporters.
"I'm sorry, but there was no other way of doing it. Separately, I want to apologize to my wife for the Hell that she has been through."
He went on to thank the Ukrainian Security Service, the SBU, for saving his life and said the most important thing was that what he called other big acts of terror had been thwarted.
Before ushering Babchenko into the room, SBU chief Vasyl Gritsak said investigators had identified a Ukrainian citizen who had been recruited and paid US$40,000 by the Russian security service to organize and carry out the killing. The unidentified Ukrainian man in turn hired an acquaintance as the gunman.
Moscow described such allegations as part of an anti-Russian smear campaign. (Shanghai Daily)