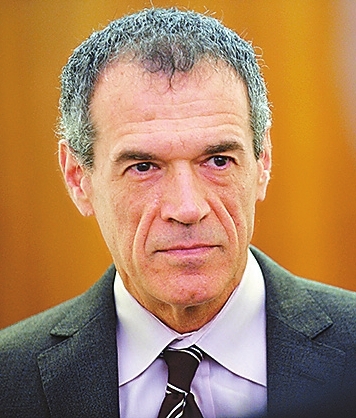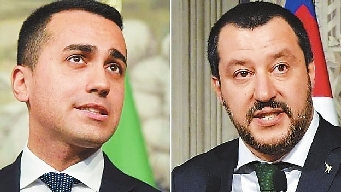 THE man tapped to head a neutral government in Italy after two populists failed in their bid is a former official at the International Monetary Fund (IMF) who is a firm believer in the euro and in the necessity of Italy cutting its stubbornly high debt load.
Carlo Cottarelli, an economist, has previous government experience under the short-lived center-left government of Enrico Letta, tapped to identify areas where government spending could be trimmed. He found 32 billion euros (US$37 billion) in cuts, but left embittered when the government soon changed hands at the obstacles he found within the bureaucracy resisting cuts.
On Monday, Italian President Sergio Mattarella tasked Cottarelli, 64, to try to form a government that can bring Italy to a new election, which Cottarelli said could come as early as this autumn. That was after talks between the head of state and populist parties on the cusp of forming a new government fell apart over the inclusion of eurosceptic Paolo Savona as finance minister.
In his first remarks, Cottarelli sought to calm markets and Italy's European partners, assuring that his government would guarantee "prudent" management of Italy's debt, which at 132 percent of gross domestic product is Europe's heaviest after Greece.
While vowing to press Brussels to respond to the concerns of Italians, Cottarelli said any such dialogue must be in "full recognition that as a founding country of the European Union, our role in the union is essential, as is our continued participation in the eurozone."
After meeting with President Mattarella, Cottarelli said Wednesday that politicians, rather than technocrats like himself, might be able to steer the country out of deadlock.
The development came as financial markets calmed after a rout a day earlier, when investor concerns about Italy's finances prompted the biggest one-day rise since 1992 in Italian two-year bond yields and dented the euro's exchange rate.
Cottarelli said possibilities had emerged "for the birth of a political government," and that financial market turmoil and other circumstances "have caused me to wait for further developments."
Cottarelli, who received an undergraduate degree in economics and banking from the University of Siena and a master's degree from the London School of Economics, worked seven years at the Bank of Italy and then one at oil company Eni, both in research positions.
He then headed to the IMF, where he worked for 25 years, specializing in monetary policy, capital markets and fiscal affairs.
He was director of the IMF's fiscal affairs department from 2008 to 2013 and became known as "Mr. Scissors" for making cuts to public spending in Italy while charged with the revision of public spending by Letta's government.
Looking back on his time under Letta, Cottarelli lamented the resistance of bureaucrats in Rome to help him carry out his role, claiming that "often I wasn't even given the documents I asked for."
In 2014, Letta's successor, Matteo Renzi, nominated him as the IMF's executive director for Italy, Greece and Malta before leaving the institution in October 2017.
Since then, he has headed an observatory on Italian public accounts at the Catholic University of Milan, where he has a healthy Twitter feed of 15,000 followers.
He recently wrote a book, "The Seven Capital Sins of the Italian Economy," which might be read as a mission statement for a new government.
He lists the sins as corruption, tax evasion, bureaucratic mire, the slow pace of justice, the low birth rate, the gap between north and south, and the difficult acceptance off the euro.
In the role, Cottarelli has made frequent appearances in Italian media to evaluate the fiscal plans of the populist parties that had hoped to form a government together, the anti-establishment Five Star Movement and the eurosceptic League.
Their attempts to form a government foundered on insistence on a finance minister with anti-euro views, which Italy's president said put Italians' savings and investments at risk.
Cottarelli told Italy's Radio Radicale two weeks ago that the two parties' primary error was "making people in some way believe that without the euro, all problems would disappear. ... Now they are trying to say that we are genetically incompatible with the euro."
He rejected that argument saying Italy,the EU's fourth-largest economy, isn't structurally weaker than Germany, but that the message needed to be underlined that "if we want to share currency, we need to behave in a different way."
He noted that Italy's inflation level is currently below Germany's, making Italy more competitive industrially.
"To abandon the thing at this point seems to me to be a mistake," he said.
He also has emphasized the need to bring down Italy's enormous debt load, which costs about 60 billion euros a year to service through interest payments, in order to free Italy from market forces.
Such credentials made him a natural pick for Mattarella. But the prospect of a neutral government ignited a backlash among the leaders of the two populist parties, who viewed it as yet another move by special interests to control Italy against the will of the people.
The League's leader Matteo Salvini said that Cottarella was a "Mister Nobody" who "represents financial institutions," while the head of Five Star Luigi Di Maio laughed off his chances of ever gaining the endorsement of a parliament in which his and Salvini's parties command a majority.
"They've replaced a government with a majority with one that won't obtain one," said Di Maio to supporters at a rally near Rome.
Three officials at the European Central Bank (ECB) have said the ECB was not considering any intervention as indicators were not yet showing signs of stress among banks and the central bank did not have the tools or mandate to solve what they said was being treated as essentially a political crisis.
(SD-Agencies)