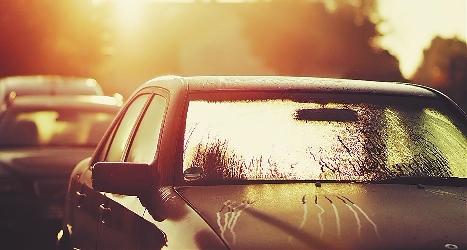 A NEW study from Arizona State University and the University of California San Diego quantifies just how long it takes for cars to reach killer temperatures in either the sun or the shade.
It isn't long on a hot summer day.
The team tested six cars, including two sedans, two economy cars and two minivans.
Left in the sun on a 37.7-degree-Celsius day in Arizona, it took just an hour for the interior temperature to hit 46.7 degrees. Dashboards heated up to a stinging 69.4 degrees and seats hit 50.6 degrees in that time.
The shade wasn't much better. Interior temperatures reached 37.7 degrees after one hour and seats were 40.6 degrees.
"These tests replicated what might happen during a shopping trip," said Nancy Selover, an Arizona State University climatologist and research professor.
"We wanted to know what the interior of each vehicle would be like after one hour, about the amount of time it would take to get groceries. I knew the temperatures would be hot, but I was surprised by the surface temperatures."
"We've all gone back to our cars on hot days and have been barely able to touch the steering wheel," Selover said. "But, imagine what that would be like to a child trapped in a car seat."
Heatstroke starts to cause damage when a child's body temperature rises above 40 degrees Celsius.
Selover's team calculated that a 2-year-old child left in any of the cars in their study would get that hot in an hour in the sun, and within two hours in the shade.
Gene Brewer, an ASU associate professor of psychology who studies memory, says it's very easy to become distracted.
"Memory failures are remarkably powerful, and they happen to everyone," he said. "There is no difference between gender, class, personality, race or other traits. Functionally, there isn't much of a difference between forgetting your keys and forgetting your child in the car."
Janette Fennell, president and founder of the car safety group Kids and Cars, agrees.
"If it was useful to charge parents, I think these cases might have ended. What people don't understand is this has everything to do with failure of memory. It's not a failure of love," she said.
Now the organization is pressing for U.S. federal legislation requiring car seat alerts in all new vehicles, so that babies are never left behind by mistake.
"You can't buy a car today that doesn't automatically turn off your headlights or remind you to turn off your headlights. Who decided it's more important to not have a dead car battery than have a dead baby?" Fennell asked.
In the meantime, her site offers ways to help lower the odds that a child will be forgotten in the back seat of a car.
■ Get in the habit of always opening the back door to check the back seat before leaving your vehicle.
■ Put something you'll need like your cell phone, handbag or brief case, etc., in the back seat so that you have to open the back door to retrieve that item every time you park.
■ Keep a large stuffed animal in the child's car seat. When the child is placed in the car seat, place the stuffed animal in the front passenger seat. It's a visual reminder that the child is in the back seat.
■ Never leave children alone in or around cars.
(SD-Agencies)