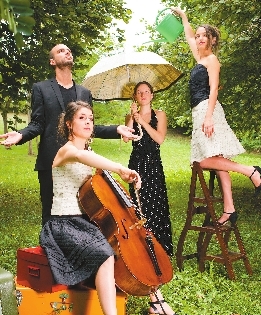 Shanghai Chinese Orchestra
Shanghai Chinese Orchestra will present two traditional Chinese music shows for children. Games will be held before and during the concerts for teaching children about traditional Chinese instruments.
Time: 10:30 a.m., 3:30 p.m., June 1
Tickets: 80-380 yuan
Frankfurt Radio Symphony
Frankfurt Radio Symphony will collaborate with Chinese pianist Zhang Haochen to present Rachmaninoff's "Piano Concerto No. 2." The orchestra will also play Mahler's "Symphony No. 5" and conductor Andrés Orozco-Estrada will wield the baton.
Time: 8 p.m., June 3
Tickets: 280-1,580 yuan
In memory of Debussy
French string quartet Quatuor Voce, Japanese pianist Momo Kodama and Spanish baritone Josep-Ramon Olive will present Debussy's pieces to commemorate the 100th anniversary of the French composer's passing. Debussy was among the most influential composers of the late 19th and early 20th centuries.
Time: 2 p.m., June 3
Tickets: 80-280 yuan
Venue: Shenzhen Concert Hall, intersection of Hongli Road and Yitian Road, Futian District (福田区红荔路和益田路交汇处深圳音乐厅)
Metro: Line 3 or 4 to Children's Palace Station (少年宫站), Exit D(SD News)