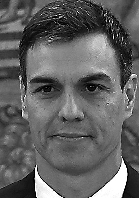 SPAIN'S Socialist chief Pedro Sanchez was sworn in as prime minister Saturday after ousting veteran conservative leader Mariano Rajoy, with Catalonia's separatist president promptly calling for talks over the region's independence drive.
Sanchez, a 46-year-old economist with no government experience, has made a spectacular comeback to the front line of politics. But he faces a tough road ahead, leading a minority government with support of diverse parties ranging from far-left Podemos to Catalan separatists.
He took the oath of office before King Felipe VI in the Zarzuela Palace near Madrid in the presence of Rajoy just a day after toppling him in a historic no-confidence vote.
That move was sparked by fury over a corruption scandal that struck Rajoy's conservative Popular Party (PP).
Sanchez has yet to name his Cabinet and it is only when their names are published in an official government journal in the coming days that he will fully assume his functions.
No sooner had he taken office than Catalonia's separatist president Quim Torra called for talks.
The wealthy region's independence drive shows no sign of dying down despite deep divisions among its 7.5 million inhabitants.
"Prime Minister Pedro Sanchez, let's talk, let's address this issue, let's take risks, you and us," Torra said.
As opposition leader, Sanchez was deeply critical of Catalonia's secession bid. He backed Rajoy's imposition of direct rule on the region in October after separatist leaders declared independence.
But he softened his tone as Catalan separatist lawmakers in the national parliament backed his no-confidence motion. He has said he wants to "build bridges" with the new regional government.(SD-Agencies)