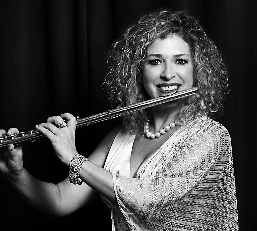 Australian flautist Jane Rutter will present Vivaldi's "Spring," Donizetti's "Sonata for Flute and Piano in C," Chopin's "Nocturnes, Op. 32," Ravel's "Pièce en Forme de Habanera," Debussy's "Syrinx," Couperin's "The Nightingale in Love," Poulenc's "Flute Sonata," Mozart's "Flute Sonata in C," Offenbach's "Can-Can," Bolling's "Suite for Flute and Jazz Piano Trio," and Chinese pieces.
Rutter specializes in the French Flute School. She attended the Conservatorium High School in Sydney, then the University of Sydney. She was also given a scholarship from the French government to study with flautists Alain Marion and Jean-Pierre Rampal.
She has lectured at the Sydney Conservatorium of Music, founded The Music Scheme, formed the chamber group POSH, produced concerts at the Sydney Opera House, and toured for Musica Viva Australia. Rutter has performed worldwide as a soloist in recital and with orchestras and at international flute conventions. She has released over twenty top-selling solo albums. She is producer and artistic director of Live at Lunch, the Concourse Chatswood, and The Karnak Playhouse.
Rutter was made a Fellow of the Australian Institute of Music in 2015. During the following year, she was selected to perform the annual tribute to Alain Marion at his residence outside Avignon, France. She is the only Australian to have been invited to perform at a Convention de la Flute Francaise (Veme in 2016). In 2016, Rutter was awarded the Ordre des Arts et des Lettres.
Time: 8 p.m., June 6
Tickets: 80-280 yuan
Venue: Shenzhen Concert Hall, intersection of Hongli Road and Yitian Road, Futian District (福田区红荔路和益田路交汇处深圳音乐厅)
Metro: Line 3 or 4 to Children's Palace Station (少年宫站), Exit D(SD News)