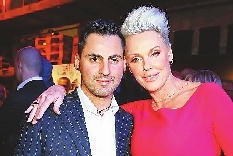 New album
AFTER a series of controversial Twitter rants, Kanye West has released his much-anticipated album, "Ye."
The rapper unveiled the album Thursday night at a listening party in Jackson Hole, Wyoming. The event was livestreamed online, and featured a selected group of celebrities such as Chris Rock, along with journalists from the industry, who detailed the party on social media. His wife Kim Kardashian West also attended.
Baby
BRIGITTE NIELSEN shared she will become a mother for the fifth time. The 54-year-old actress and model recently posted photos of herself sporting a baby bump on her Instagram account.
Nielsen, a mother of four adult sons, married Mattia Dessi, now 39, in 2006 and said two years later that she would like to have more children. Nielsen came to fame starring in "Rocky IV" and "Cobra" alongside Sylvester Stallone, whom she married in 1985. Nielsen was also married to Kasper Winding from 1983 to 1984, Sebastian Copeland from 1990 to 1992 and Raoul Meyer from 1993 to 2005.
Sequel
TOM CRUISE posted on Twitter on Thursday a teaser image for the upcoming sequel to "Top Gun" in celebration of the film entering into production.
"#Day 1," Cruise captioned an image of himself in full pilot gear as he looks on at his F-14A Tomcat. The phrase "Feel the need" is also present on the photo, a reference to a famous line from the original 1986 film, "I feel the need...the need for speed." The sequel, officially titled "Top Gun: Maverick" in reference to Cruise's character Pete "Maverick" Mitchell, will be directed by Joseph Kosinski with Jerry Bruckheimer returning to produce along with German composer Harold Faltermeyer who created the score for the original film.
Lawsuit
THE company behind "Sesame Street" has lost its lawsuit against the makers of Melissa McCarthy's upcoming raunchy comedy, "The Happytime Murders," for referencing the popular kids show in its marketing campaign.
A New York judge ruled Wednesday that Sesame Workshop failed to demonstrate the movie's marketing tagline — "No Sesame. All Street." — might confuse moviegoers.
(SD-Agencies)