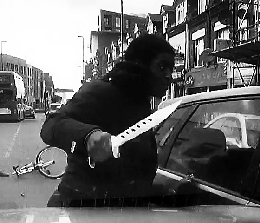 THIS is the moment a cyclist armed with an enormous "zombie knife" tries to smash the window of a car in an apparent road rage row.
The driver was forced to run for his life as the cyclist battered his car with the foot-long (30.5-centimeter-long) blade in the confrontation in Croydon, South London.
The row unfolded Wednesday when the cyclist appeared to stop next to the blue Volkswagen Golf and peered into the car — with the vehicle then swinging out into the road.
The dashcam footage shows the car almost push the cyclist off his bike before becoming stuck in the line of traffic as it tries to drive off.
But the confrontation then explodes as the cyclist draws the huge blade from his waistband.
The furious cyclist can be seen kicking and punching the car repeatedly as the driver cowers inside.
It is unclear if the motorist and the cyclist knew each other — with the cyclist circling the car to continue his attack before the driver managed to jump out and run off.
Police have since appealed for witnesses who may have seen the "attempted grievous bodily harm" attack on the 19-year-old driver.
Fears have since been raised that the cyclist was wielding a zombie knife — a type of large combat knife that is often made in bright colors and that has serrated edges and emblazoned with logos, such as "zombie slayer."
They appear to have grown in popularity after featuring in "zombie apocalypse" movies — and this seems to qualify due to its size.
The dashcam footage also captured the moment the enraged cyclist had managed to shatter the passenger window as two more men appear, apparently in support of the attacker.A cyclist armed himself with a huge knife batters the car door in the road rage row in Croydon.SD-Agencies
But just as the glass gives way under the force of the cyclist's fists, the teen driver can be seen jumping out of the car, running for his life.
Police said the 19-year-old driver had collided with another car as he tried to escape — eventually jumping out of the car to run off.
They said: "He was followed by the suspect. The victim later returned to his car after the suspect made off. No reported injuries."(SD-Agencies)