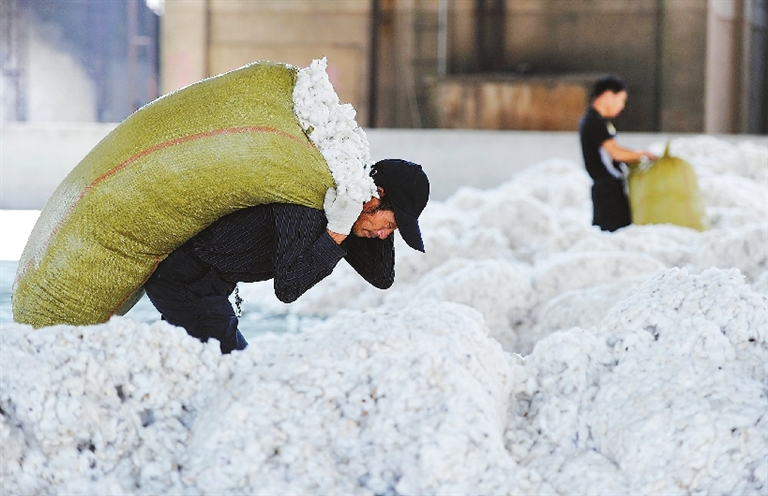 THE China Cotton Association sought to calm market volatility yesterday, telling investors supplies were sufficient and revealing government plans to allow for more imports in the near future.
The comments from the association, which lobbies the government on behalf of cotton farmers and processors, follow a rally that has driven domestic cotton futures up nearly 18 percent since early April.
"There is no shortage of supplies," said the cotton association in a statement published on its website.
Volatile fluctuations in prices had led to a "tense" market, despite the "absence of significant changes in market supply and demand," the association said.
While demand for cotton has been steadily rising this year, the association said there is limited room for growth.
"The supply of cotton is basically sufficient, and the abnormal fluctuations in the current market are influenced by speculation and other factors," it said.
China's cotton output this year is expected to remain stable, with weather disasters about the same as in previous years, the association said. Bad weather came "relatively early" as well, reducing any impact on yield, it said.
Supply is also sufficient, it said. Commercial inventories were about 2.87 million tons at end-April, about 1 million tons higher than the same time last year.
Still, it said the government had decided to issue a certain amount of sliding tariff import quotas to textile companies in light of the current market.
China allocates 894,000 tons in tariff-rate quotas each year as part of its commitments to the World Trade Organization. Until 2014, it also issued additional quotas with sliding tariff rates. Since 2015, though, it has not issued additional quotas in order to get rid of huge State stocks.
The comments came after the China National Cotton Reserves Corp. said it would restrict purchasing at its daily auctions to textile manufacturers from yesterday, according to a statement from the company posted on industry website www.cottonchina.org.
Companies not using cotton to make textiles will be disqualified from buying from State reserves for the rest of the year, and textile companies will be banned from reselling any purchases, said the statement from the reserves company, which manages China's State cotton stockpiles.
The China Cotton Association said the State sales could be extended to end-September if market supplies were insufficient.
The association also urged the government to strengthen supervision of the futures market and prevent speculation from impacting the sector.
(SD-Agencies)