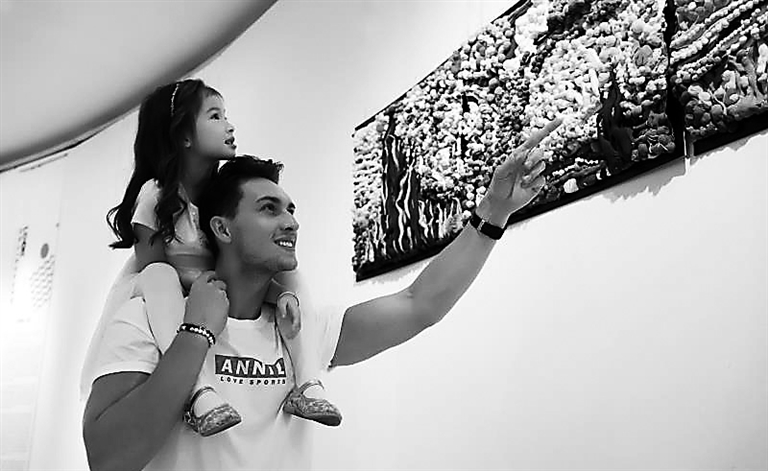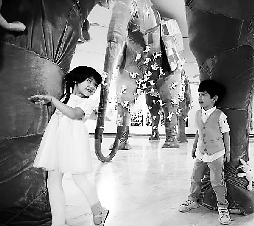 "Look: Growing Up Together," an exhibition featuring 153 children's paintings, is being held at Guan Shanyue Art Museum to mark Children's Day. Various DIY workshops will also be held during the exhibition.
To optimize the exhibition as a parent-child date, the curators hung some paintings 2 meters above the floor so that kids can best view the exhibition when sitting on their fathers' shoulders. On June 9 and 10, children can also sit on the shoulders of museum staff members who will dress up like superheroes, letting kids tour the exhibition halls from the viewpoint of Iron Man, Spider Man and Captain America. Children whose weight is not more than 18 kilograms can apply for this event at the museum's service counter.
Also on display is a fun work by young artist Li Linlin. She created two 4-meter-tall elephants and three 1.5-meter-tall elephants with countless rabbits on their backs, making a wonderland for children.
Since 2014, children's clothing brand Annil has collaborated with Guan Shanyue Art Museum for the annual "Growing Up Together" exhibition. This year, the organizers received more than 30,000 painting submissions from local children.
Dates: Until June 10
Hours: 9 a.m.-5 p.m.
Venue: Guan Shanyue Art Museum, 6026 Hongli Road, Futian District (福田区红荔路6026号关山月美术馆)
Metro: Line 3 or 4 to Children's Palace Station (少年宫站), Exit B(Cao Zhen)