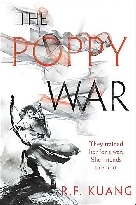 YOUNG Chinese-American writer Rebecca F. Kuang autographed her new book "The Poppy War" on Saturday at the New York Bookcon.
The historical fiction novel, picked up by HarperCollins in May 2016, was set in a mythical land inspired by 20th-century China. The book follows a young orphan's entry into an elite military school and her discovery of shamanic power as a war brews in the background.
Kuang, 22, who immigrated to the United States from Guangzhou, China in 2000, plans to continue to pursue Chinese history at the University of Cambridge next fall.
"The Poppy War" will be followed by two sequels.
(SD-Agencies)