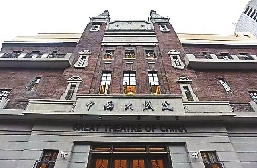 THE 88-year-old Great Theater of China in Shanghai reopened May 16 after two years of renovations.
Located near People's Square in downtown Shanghai, the facility was built in 1930 as a prime venue for Peking opera performance. Famous artists such as Mei Lanfang, Ma Lianliang and Meng Xiaodong used to sing in the theater, which was known as one of the "Top Four Stages" of Peking opera.
The building was listed as a protected historical structure by the municipality in 2005. Huangpu District authorities later made the decision to renovate the building in 2012.
The new theater will launch its debut performing season in June, with 19 plays from nine countries scheduled to take place from then till the end of September. Some of the plays will be making their China or Asia debuts at the theater.
Shanghai-based Peking opera artist Shi Yihong will present China's first chamber edition of the classical play "Farewell to My Concubine," while Wang Peiyu, a woman Peking opera singer well-known for her portrayal of elderly male characters, will present a solo concert.
(SD-Agencies)