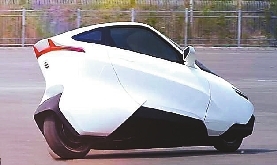 智能两轮电动车2020年上市
A Chinese engineer has designed a two-wheeled car of the future based on a 1961 Ford model.
Self-balancing two-wheeled cars, known as gyrocars*, have been around for over 100 years, but have failed to catch on. Zhu Lingyun hopes to change that with his gyrocar design, inspired by the 1961 Ford Gyron.
The vehicle doesn't have a steering wheel* or acceleration* pedal, and is instead controlled by a computer mouse and 24-inch screen. The car can also drive autonomously, and could go on sale by 2020, its inventor claims.
"I was told by a potential investor that I have zero chance to make the idea work," Zhu, 40, said after a test drive of a prototype called "1703."
"But I firmly believe this is the future of urban transportation because it is exquisite*, energy-saving* and easy to manage. I have to make it."
Zhu first spotted Ford's half-century-old Gyron on the Internet five years ago, and immediately wanted to build his own. The car was on the May 1961 cover of Car Life magazine and then displayed at the Detroit Motor Show.
In 2014, Zhu founded Beijing Lingyun Intelligent Technology Co. with US$470,000 in investments and three employees. The company is now worth US$60 million.
"On most occasions, a car is used by a single person, so a car for one person has market prospects," said Li Jianwei, who led Sequoia Capital's investment into Lingyun in 2014.
(SD-Agencies)