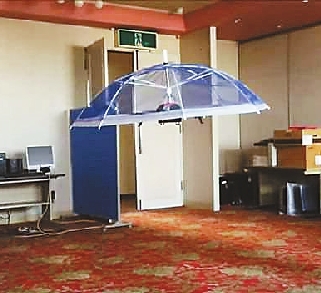 不用手拿的雨伞
A Japanese company is taking drone* ownership to the next level with the development of an autonomous* umbrella that follows a user's head.
The Free Parasol uses a camera and artificial intelligence (AI*) to track and follow a user as they walk down the street. The technology is already in use with some autonomous drones, but Asahi Power Services hopes to adapt it for self-flying umbrellas.
The device can help someone commute* hands-free and is useful in both rain and sun. As of now, the umbrella prototypes* have a flight time of only 20 minutes.
The designers are confident that they can increase flight time to an hour or more. However, flight duration will depend on the weather and will be affected by heavy rains and wind.
The Free Parasol is expected to be available on the market by 2019 at the lofty* price of US$275.(SD-Agencies)