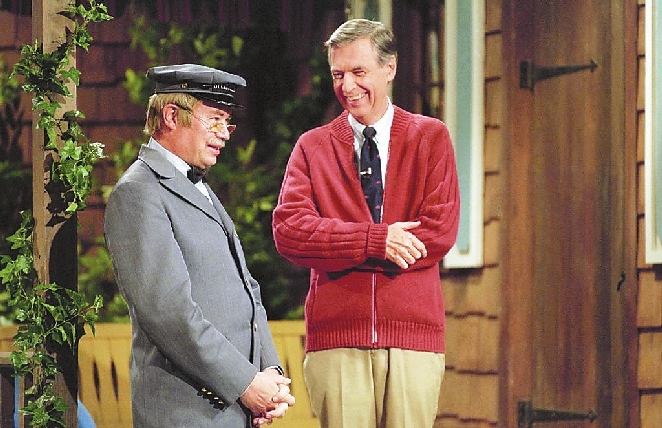 《与我为邻 》
Early in the film, director Morgan Neville shows a clip from the 1968 premiere* episode of "Mr. Rogers' Neighborhood" in which the leader of the Neighborhood of Make-Believe, a puppet* named King Friday XIII, announces his plans to build a wall around his kingdom because of his fear of change.
Though 50 years after the birth of the beloved PBS series many of the world's problems remain the same, this film exhibits a steadfast* belief that Rogers' philosophy of love and acceptance can be useful today. Through an array of carefully presented archival* footage and interviews with those most intimately involved with Rogers over the years, Neville carefully unpacks the seemingly simple yet surprisingly radical* methodology employed by Rogers during his three-plus decades on the air.
While Rogers's legendary 1969 senate testimony, which helped to secure the US$15 million needed to keep public television alive, serves as the film's centerpiece, it's a series of smaller, more intimate moments that truly reveal the soft-spoken but industrious* man's unique world view.
The archival footage, like that of his heartwarming conversation with 10 year-old Jeff Erlanger about how the young boy deals with his sadness and disability*, helps to paint a vivid portrait of a man determined to speak honestly and directly with, rather than down to, children of all ages. In clip after clip, Rogers addresses such topics as death, depression, anger, divorce, even Robert F. Kennedy's assassination*, connecting with children not by protecting them from harsh truths, but by helping them to confront* and cope with them.
While he depicts Rogers as something of a saint, Neville touches on a number of Rogers's personal and professional struggles.
Rogers's perfectionism* led one of his sons to describe the challenge of having "the second Christ as a father." That perfectionism also caused Rogers, who was teased relentlessly as a boy for being overweight, to be obsessed with weighing in daily at exactly 64.9 kilograms.
All that said, Neville wisely keeps the focus on Rogers's message rather than his private life. SD-Agencies)