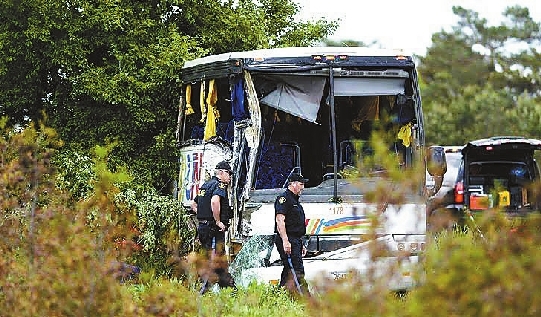 ONE Chinese was killed and 34 others were wounded in a traffic accident in eastern Ontario, Canada on Monday afternoon.
The accident occurred when a tourist bus carrying 35 Chinese people from the United States crashed on the 401 highway. All 37 people on board were injured.
Apart from the bus driver and a tour guide, all 34 tourists and a team leader are Chinese nationals. One Chinese citizen passed away in the early hours of yesterday. The injured were rushed to hospitals near the site of the accident.
The bus belongs to travel company LLTOURTU, which is registered in the United States. The tourists set out from Shanghai on May 19 for a tour of the United States and Canada, which was expected to end Saturday.
The Chinese Embassy in Canada is working with the Ontario Police Department and the tourism company back in the United States. Yang Yundong, spokesman for the Chinese Embassy in Canada, said the embassy will closely follow up on the investigation.  (Xinhua)