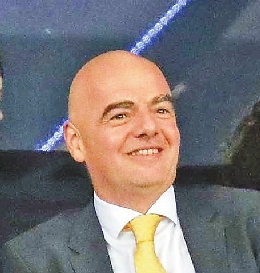 FIFA can afford to have Morocco host the 2026 World Cup, according to President Gianni Infantino, even if the rival North American bid promises billions of dollars more in revenue.
Ahead of next week's vote by FIFA member federations in Moscow, Infantino said Monday: "FIFA can afford whatever the congress decides."
"We have to live with that and to make the best of any decision, which is taken," said the FIFA leader, who Moroccan bid leaders have publicly suspected of favoring the joint United States-Canada-Mexico bid.
In a FIFA panel's evaluation of the candidates, the North American bid got the only maximum mark for its tickets and corporate hospitality sales plan.
A difference in projected ticket sales of US$1.3 billion between the two bids helped lead the report to note "significantly higher" forecast revenue of US$14.3 billion from North Americans and US$7.2 billion from Morocco.
"Money is one element but not the only element" in the report, Infantino said, revealing that FIFA will top US$6 billion income during the four-year financial period for the 2018 World Cup.
The evaluation team also emphasized a significant overall risk posed by Morocco's plan to build or renovate all of its stadiums, almost all team training sites, and many hotels.
Up to 207 voting federations, many of whom rely on the US$1.5 million annual grant promised by FIFA over the next four years, can ignore the panel's work.
Infantino would not be drawn on whether U.S. President Donald Trump's public comments could be a factor in the June 13 poll — either driving voters toward Morocco, or winning them with veiled threats of consequences for countries not supporting the American bid. FIFA will publish how federations voted.
"I hope when they vote they think what is best for football, definitely not on other subjective criteria that they might have for themselves," Infantino said.
(SD-Agencies)