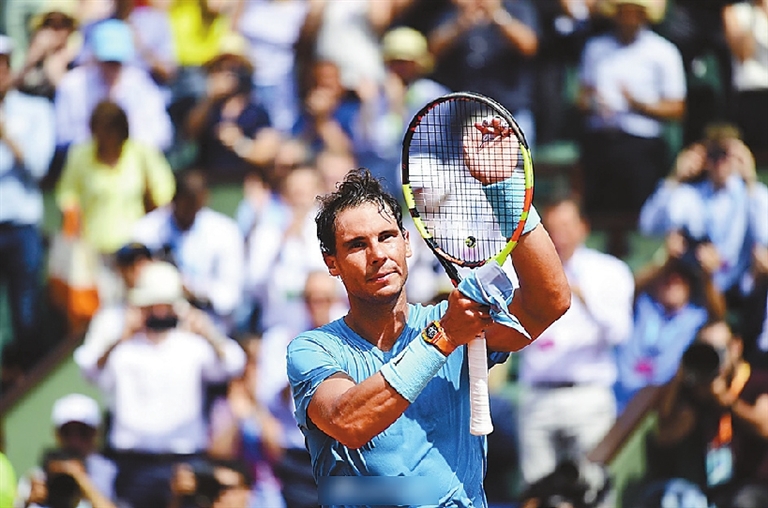 RAFAEL NADAL said he doesn't "feel old" after moving a step closer to an incredible 11th French Open title Monday by beating German Maximilian Marterer to reach the quarter-finals the day after his 32nd birthday.
The world number one's 6-3, 6-2, 7-6 (7/4) victory over the world number 70 was his 900th win at tour level.
It also saw him equal the record of 12 last-eight appearances at Roland Garros, which was set by Novak Djokovic the day before.
Top seed Nadal, who celebrated his birthday Sunday, is now on his own in third on the all-time list for most match wins at Grand Slam events with 234 victories after passing Jimmy Connors.
"I don't feel old. But I am 32, and I have been here since 2003, so it's a long way, a lot of years," he said.
"I started very young. That's a real thing. But, no, I feel happy to be here. Being honest, I am enjoying the day by day on the tour and I hope to keep doing this for a while."
Nadal powered 39 winners past Marterer, who pushed the Spaniard as hard as he could without ever threatening an upset.
He will face Argentinian Diego Schwartzman for a semifinal spot, after the 11th seed staged a thrilling comeback to down sixth seed Kevin Anderson 1-6, 2-6, 7-5, 7-6 (7/0), 6-2.
"It's always good to see him in the quarterfinal because he's a good friend, a good person. He's a worker, and I'm happy to see him having all this success. Hopefully not too much though," smiled Nadal.
The 16-time Grand Slam champion has now won 37 consecutive sets at Roland Garros, just four short of Bjorn Borg's record set between 1979 and 1981.
Nadal was caught cold in the opening stages as some big hitting from Marterer brought him the first two games.
But it didn't take Nadal long to figure out his opponent, reeling off four straight games en route to an inevitable one-set lead.
The 16-time Grand Slam champion raced through the second set in just 38 minutes, breaking his opponent's serve twice.
But Marterer moved into a 3-1 lead early in the third as he threatened to become the first man to take a set off Nadal at Roland Garros since the Spaniard's 2015 quarterfinal defeat by Djokovic.
But the reigning champion quickly hit back before securing a tie-break on his second match point when Marterer fired long, celebrating with a trademark fist pump.
Schwartzman fought back from two sets down to stun Anderson and reach the quarterfinals for the first time.
Meanwhile, American Serena Williams' audacious attempt to win the French Open for a fourth time ended Monday as injury, rather than an old foe, forced the 36-year-old to admit defeat at Roland Garros.
The scene had been set for Williams in her "superhero" catsuit to take on Russian ice queen Maria Sharapova in a fourth-round clash that had assumed top billing.
But shortly before the two old warriors were due on court, the 23-time Grand Slam champion stepped into a news conference room to announce she was pulling out.(SD-Agencies)