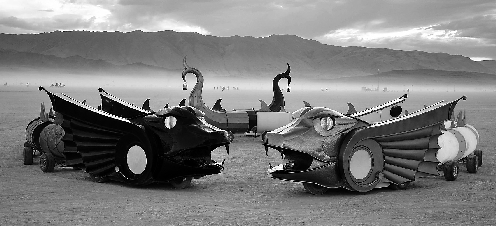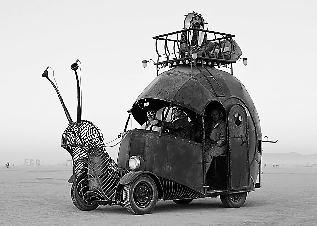 Speaking of Steampunk, you wouldn't miss these super cool projects. You might have seen some from online images or videos or at Maker Faire, Burning Man or other events.
The Golden Mean is a golden gastropod built on a 1967 VW bug chassis, featuring seating for six, rein-triggered fire shooting eye stalks, and a signature antiqued patina finish. Making its debut at Burning Man in 2008, the Golden Mean has been featured on Wired Magazine, CNN and Time Magazine. With a speed up to 101.5 kilometers per hour, the Golden Mean was also Libby Schaaf's ride of choice when she was sworn in as Oakland's 50th mayor in 2015.
Serpent Twins are two huge kinetic mobile sculptures rendered in metal and cast off materials using modern science, restoring ancient mythos to the modern world. The Jormungand (Midgard) and Julunggul (Rainbow) serpents represent the power of fire and earth respectively. Each serpent is 15.24 meters long, 122 centimeters wide and 105.4 centimeters tall and can slither at a speed of 14.4 kilometers per hour.
While you are awed by these enormous, aesthetic and powerful works, would you like to know the creative minds and crafty hands behind these masterpieces?
Good news! Jon Sarriugarte, the artist and maker behind the above works will host a meetup at x.factory next Monday. Come and talk with Sarriugarte, learn about the inspiration of his works and get inspired.
Sarriugarte created the metal furniture company Form & Reform in 1987. He has studied and worked as a blacksmith/fabricator for over 25 years, pouring his creativity into both work and the local community where he is a civic leader and board member of the West Oakland Commerce Association. He believes in plain old fun. His entries in the Power Tool Drag Races have been featured on the Discovery Channel, and his work on Vortex generators was featured on the History Channel.
Time: 7:30-9:30 p.m., June 11
Venue: x.factory, Design Commune, Vanke Cloud City, Dashi Road 2, Nanshan District (南山区打石二路万科云设计公社x.factory)
Metro: Line 5 to Liuxiandong Station (留仙洞站), Exit A
(SD News)